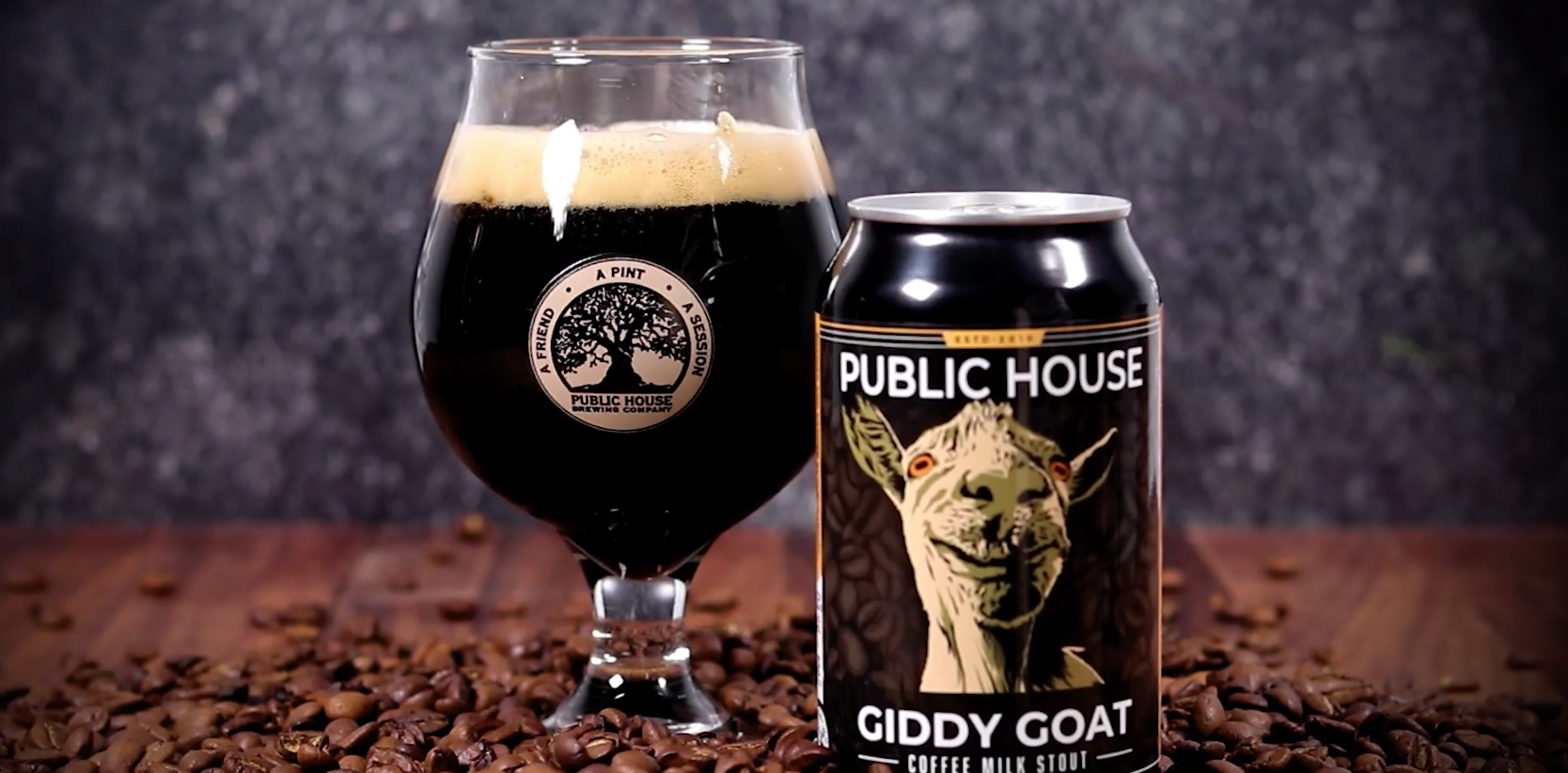 Coffee stouts, especially well-crafted, well-balanced coffee stouts are the things beer lovers long for as the calendar moves into fall and eventually winter. They're the beers that we sip by the fire, at the tailgate or after a hearty meal. But, not all coffee stouts are created equally, because not all coffee goes well with beer, so finding that perfect taste profile that hits right with a specific base beer, is becoming more of an art form in the world of craft brewing.
Thus, some of the best coffee stouts are those that come via collaboration between expert brewers and expert roasters.
That is the line of thinking that brought Public House Brewing and Giddy Goat Coffee House together for a new entry into the coffee stout market.
The Backstory
As far back as 2011, Public House Brewing, based in Rolla, Missouri, had played with the idea of making a Coffee Stout. In 2019, the idea became reality when they joined forces with the owners of Giddy Goat Coffee House, also based in Rolla.  After a bit of discussion, the teams realized that couldn't just pull any coffee off the shelf and expect it to work, so they decided to do some bench trials.
Public House brewed 3 different stout bases – Revelation Stout, an oat milk stout, a milk stout and an American stout. Giddy Goat brought in about 4-6 cold brew options and the teams sat at a table trying different combinations and ratios until the profuse sweating and heart palpitations became too much.  The decided on two options and then turned the two finalists over to the pub crowd and had them do a blind test to determine which direction to go.
The result was a milk stout based that would be blended with a Papua New Guinea Nebilyer Valley cold-brewed coffee.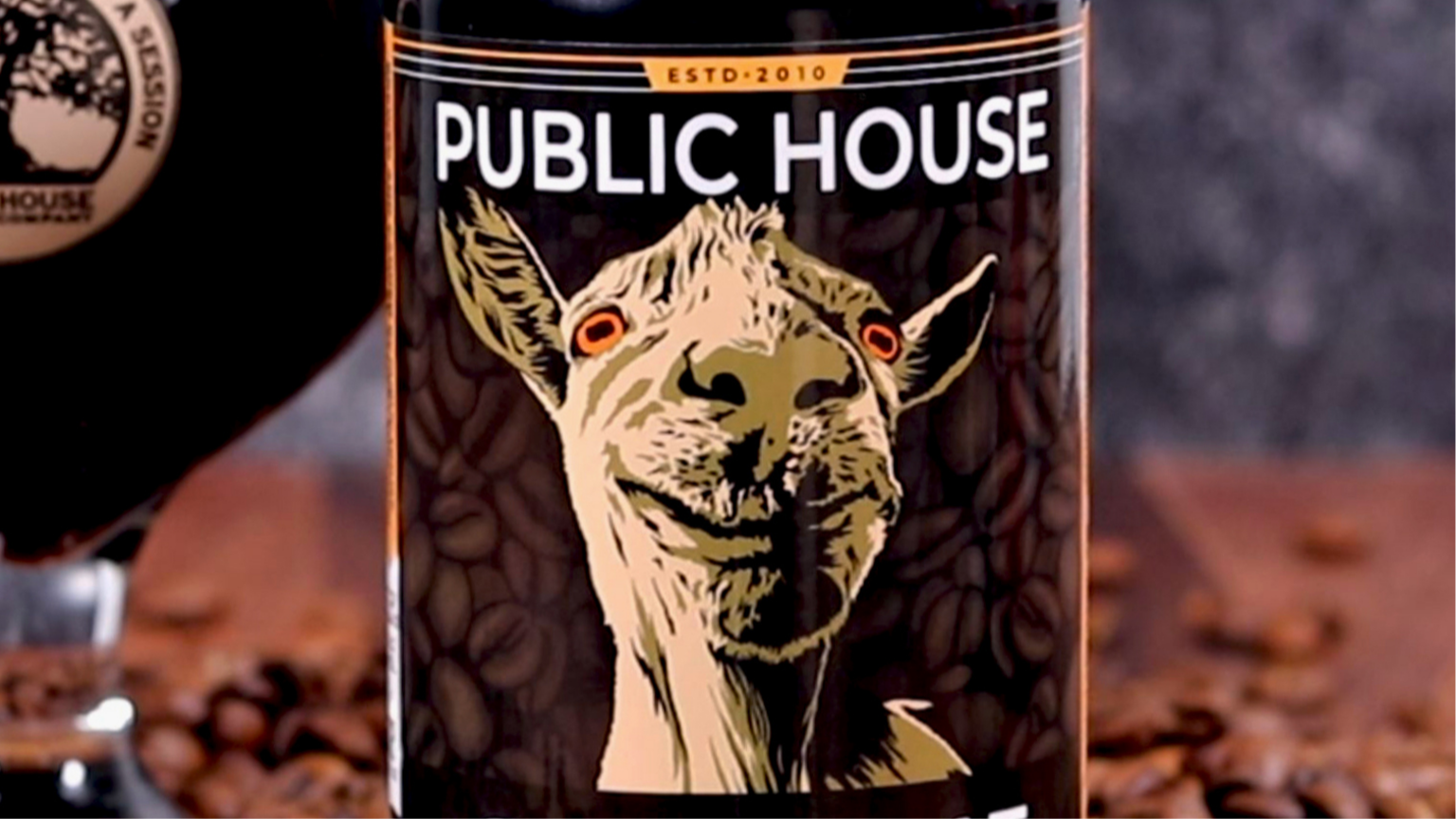 The Label
The transition to cans this year gave the brewery the opportunity to work on a rebrand of the artwork as well. The artist, Travis Watkins, is not only a personal friend of the owners but a fan and friend of the brand. A military veteran and Rolla area native, Watkins creates all kinds of art in all kinds of mediums. Many of his canvas works, were displayed and sold in the taprooms, so he was the natural choice to re-imagine their beer labels.
The Beer
The end result is Giddy Goat Coffee Milk Stout (5.5% ABV | 25 IBU), a dark, full-bodied ale with rich and roasty coffee notes, and a slight creamy sweetness.
Public House has been brewing for nearly a decade and is known for stouts. I think that this beer, in particular, stands out because it brings a large depth of flavor, but still stays balanced. They really found the appropriate marriage of the base beer with the right coffee to make a superior coffee beer.
Brewers Tasting Notes:
Visual: Dark with tan long-lasting head
Aroma: Roasted coffee, with sweet malt notes, some dark chocolate
Flavor: Rich deep coffee, malt backbone, mild sweetness, balanced finish
Mouthfeel: Creamy, sweet finish
Body: Medium-High
Ingredients:
Yeast: California Ale Yeast
Hops: Millennium
Malt: Pale Ale, Crystal Malt, Chocolate Malt, Midnight Wheat, Roasted Barley
Other: Lactose, Papua New Guinea Coffee Beans

Food Pairings:
Cuisine: Rich spicy food like barbecued beef, mole or hearty Szechuan dishes
Cheese: Buttery well aged cheddar
Dessert: Chocolate espresso cake, cream puffs
Untapped Link: https://untappd.com/b/public-house-brewing-company-giddy-goat-stout/1839719
Availability: Winter
Format: 6-pack Cans, 1/6 bbl, ½ bbl
Glassware: Balloon Glass
Serving Temp: 50°F-55°F
Style: Coffee Stout