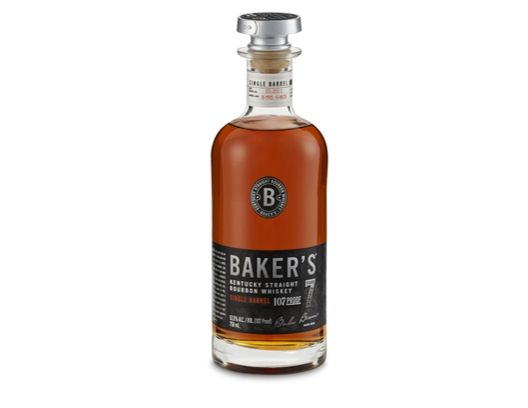 I often get asked, what is the difference between a "single barrel" whiskey and a "small-batch" whiskey. The basic differences are in the definitions. A "small batch" whiskey is one that is made from a small selection of barrels of whiskey, usually as few as 10, but perhaps as many as 50. Compare that to the thousands of barrels that go into making Jack Daniels, or Jim Beam.
A single-barrel whiskey is made from literally one barrel, and not mixed with any other barrels before bottling. This means you might buy a bottle of a single-barrel of your favorite brand one month, which came from one barrel and then purchase another bottle a year later, and the taste, smell and color may be different because it came from a different barrel.
According to whiskey historians, the first single-barrel whiskey released was in 1984 by Blantons. Now, many are on the market, including a new one announced today.
Baker's 7-year has always been a part of the original Small Batch Bourbon Collection created by Booker Noe, the 6th generation Master Distiller at Jim Beam. The other's in the popular collection is Basil Hayden's, Knob Creek, and Booker's Bourbon.
Now, Baker's is making the transition to a single-barrel offering. It will still hold its signature 107 proof and minimum seven-year age statement, but will now be presented in with a new bottle design featuring details about the individual barrel including the age, the warehouse in which it was aged and the date it was barreled.
"Baker's Bourbon has always been a bit of a hidden gem of our portfolio," said Fred Noe, Beam's 7th Generation Master Distiller. "With my cousin Baker's blessing, we've decided to give his namesake brand a little bit of the spotlight it deserves."
Who Is Baker Beam? 
Baker Beam, grand-nephew of Jim Beam and now retired 6th Generation Beam Family Distiller, worked just about every job at the Jim Beam Distillery during his 38 years in the family business, eventually landing in the role of distiller at the Clermont, Ky. plant. In 1992, his cousin Booker Noe was serving as the family's 6th Generation Master Distiller when he created Baker's Bourbon as part of the Small Batch Collection. Booker cited Baker's unique charisma as his inspiration for the bourbon's name and honored his cousin's personal preference for a medium-bodied bourbon with a smooth finish.
Tasting Notes
As a single barrel bourbon, the tasting notes will vary from barrel to barrel and bottle to bottle, but some of the defining characteristics include:
Proof: 107
Age: Minimum 7 years
Nose: Fruit, vanilla and caramel
Palate: Medium-bodied with flavors of oak, toasted nuts and vanilla
Finish: Robust, medium-long, and warmly rounded
Sipping Suggestions: Baker's Bourbon is best enjoyed neat, over ice or with a few drops of water.
This fall, Baker's Bourbon will also debut its first-ever limited-time offering: a 13-year-old single barrel bourbon that cranks its "good, honest whiskey" – as Baker would say – up a notch. This special bourbon has been patiently aging for a special occasion, and this moment in the brand's history is it. Spending thirteen years in the barrel gives this rare offering noticeably richer notes of oak and toasted nut. In addition to its unique taste, this limited-time offering will stand out in a premium gift box, metallic-inspired label and metal neck charm.
Baker's Single Barrel Bourbon is now available nationwide with a Suggested Retail Price of $59.99 for a 750 mL bottle. Baker's® 13-Year-Old Single Barrel Bourbon is also available nationwide in extremely limited quantities with a Suggested Retail Price of $99.99 for a 750 mL bottle.
New whiskey inspired apéritif available online in exploding low ABV market