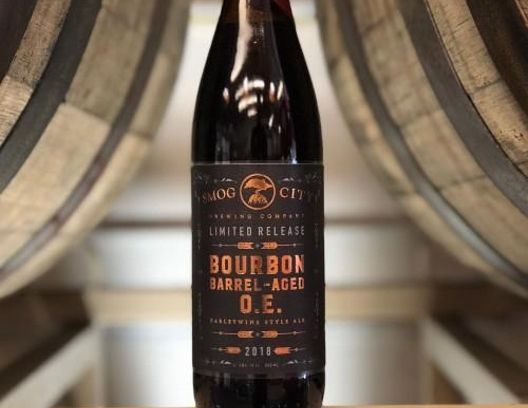 Drink314 is proud to announce a new partnership with the beer app Tavour. Tavour makes it possible to access and discover the highest-rated craft beers from all over the world through a mobile app experience. Drink314 readers will have the chance to open an account and receive $10.00 after spending $25.00 on the Tavour app. Just enter the code Drink314 during signup or on the "promos" page before your first purchase.
---
Download the Tavour mobile app for iOS or Android and the beer is yours in just a couple of clicks.
Smog City Brewing – Bourbon Barrel O.E. (2019) – $17.99 for 1x500ml bottle
Style: Barrel Aged Barleywine, ABV: 14.1%
When one hopeful fan took to Smog City's social media and asked how to get a bottle of today's Barrel-Aged O.E. in Kansas, the brewers had a simple response:
"Fly to Los Angeles. Drive to Torrance. Buy a bottle."
That is some brew-tal honesty, right there! But hordes of craft fans really do make the trip to the brewery each and every year to get their hands on this 14.1% ABV Barleywine colossus.
Because this burly brew is one of the Top 20 British Barleywines in the World on BeerAdvocate, and it won a Gold medal at the 2019 San Diego International Beer Competition for its layered complexity.
Luckily, you're so crafty that you can have this boozy sip delivered straight to your door! And when you open it up, you'll understand exactly why Barrel-Aged beer fans from all over make the annual pilgrimage to Smog City.
As soon as you pour this caramel-colored brew into a glass, aromas of candied figs and rich toffee immediately fill the room. On the sip, it's all about thick, syrupy malt with complex layers of date, honey, and bourbon heat. Subtle notes of oaky vanilla and barrel char flirt with the palate on the finish, begging you to take another sip.
This year, you don't have to join the throngs of craft fiends as they traverse the wilds of L.A. to get a sip of O.E. You can score a bottle or two right here.
Rated 4.42 on Tavour; 94/100 on BeerAdvocate; 4.18 on Untappd
Cellarable
LIMIT 6 PER MEMBER.
Limited Supply. Requests processed in the order received.