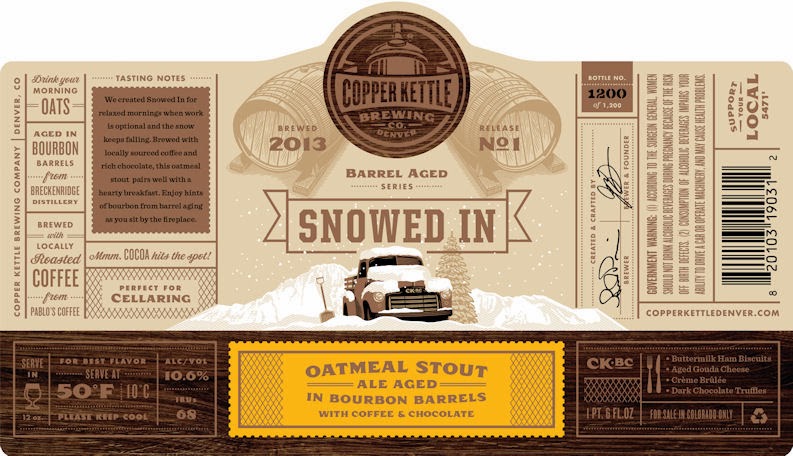 Drink314 is proud to announce a new partnership with the beer app Tavour. Tavour makes it possible to access and discover the highest-rated craft beers from all over the world through a mobile app experience. Drink314 readers will have the chance to open an account and receive $10.00 after spending $25.00 on the Tavour app. Just enter the code Drink314 during signup or on the "promos" page before your first purchase.
---
Download the Tavour mobile app for iOS or Android and the beer is yours in just a couple of clicks.
Copper Kettle Brewing Company – Snowed In – Coconut – $17.99 for 1×19.2oz can
Style: Barrel Aged Stout, ABV: 12.2%
Ask any Colorado Dark Beer fiend or barrel-aged fanatic why Copper Kettle's BBA Snowed In Imperial Stout with Coconut is at the top of their "must-try" list, and we bet you'll hear at least one of the following reasons:
"It's so boozy!" – Yep, this sweet and decadent sipper comes packed with a hefty 12.2% ABV. 
"It's aged in Breckenridge Bourbon barrels!" – Snowed In Vanilla spent 4 months in these freshly emptied, local barrels which impart indulgent layers of whiskey spice and silky, oaky vanilla.
"It's so smooth!" – The GABF award-winning brewers upped the dessert-ante in today's pitch-black pour by adding real flakes of toasted coconut. Every sip is coated in rich cocoa, chewy molasses, and a sweet, coconut creaminess that goes down so smooth, you'll almost forget about the massive ABV.
"It's world-class!" – This coconutty treat is one of the highest-rated beers in Copper Kettle's Snowed In Imperial Stout series, with last year's vintage pulling a massive 4.40 on Untappd!
Don't let Colorado craft fans horde all this boozy goodness for themselves! Grab yourself a few cans of Snowed In Coconut from the small stash we managed to sneak past the thirsty local mobs.
And when you're ready to indulge in its waves of bourbony, coconut goodness, call up your closest buddies and let 'em in on the secret; You're one of the few out-of-towners to snag today's beer!
Once they get a sip, they'll have no reason to leave, and every reason to stay 'til the very last drop.
Rated 4.22 on Untappd 2018 Vintage rated 4.40 on Untappd; 4.26 on Tavour
Cellarable
LIMIT 6 PER MEMBER.