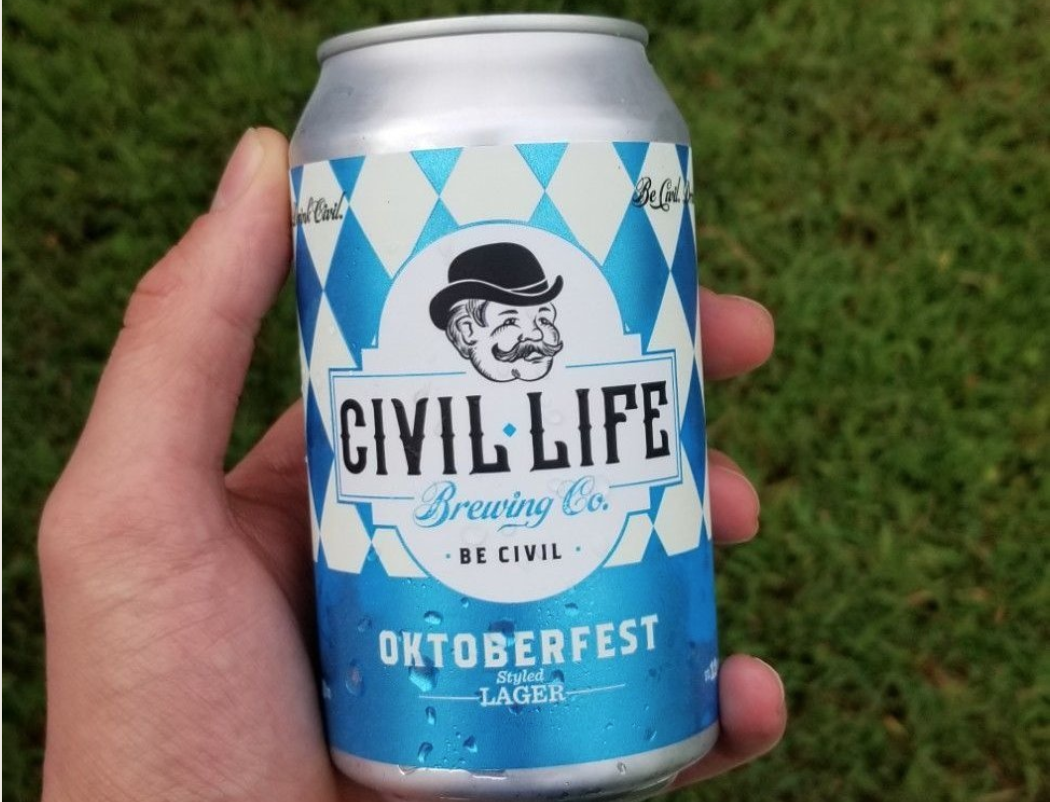 The calendar says August, the thermometer reads like it's August, but I have to tell you, I'm in an Oktober sort of mood.
Perhaps it's my impending 51st birthday, but I think it's really just my anticipation for cooler, fall-like temps and crisp, clean Oktoberfest beer. Which is why I was thrilled to see that Civil Life Brewing Company was getting ready to release their popular Oktoberfest in cans for the first time.
What the heck is an Oktoberfest beer?
Strictly speaking it is beer brewed specifically for the folk festival of Oktoberfest.  In Munich, the city of origin for the festival, only beer brewed within the city limits and adheres to traditional German Brewing Standards is served. Oktoberfest beer that is brewed in the U.S. is not only paying homage to the history of Oktoberfest but has distinctly become a noticeable style here at home.
Most likely an American Oktoberfest will lean a bit more on a deeper color, perhaps even becoming red (but usually deep golden to earthy bronze), a healthy amount of maltiness, lightly to moderately hopped (probably with German Hops), and fermented with a Lager type yeast.
"I think what makes Oktoberfest beer so desired is actually the fact that it springs from the earnest desire to eat, drink, and be merry," said Civil Life Head Brewer Dylan Mosley. "What I mean by that is that as Oktoberfest has become marketed over the decades, the beer has actually become the physical manifestation of one of the most prominent parties in the world, and one that has a mostly positive image.  The spirit of Oktoberfest needs a vessel through which we can all partake.  What makes the best Oktoberfest beers in the world is that they taste like your invitation to the party."
Civil Life's Oktoberfest marries a few traditional aspects of exported Bavarian brew with good ole American brewing heritage.  They use German ingredients through and through but Saint Louis water isn't that of Munich."We filter all our brewery water to make it more suitable for brewing but we don't break it down to emulate other cities water profiles," said Mosley. "There was a fire that broke out at the Weyermann Malt House (Bamberg Germany) last year and I was quite worried about their production for a day or two until the news came back as good as it could.   We use a lot of their malt throughout our yearly production and I think they do a very good job."
While it seems like so many breweries have an Oktoberfest, finding the slight variances on each part of the challenge. What may be the variance in Civil Life's Oktoberfest could be how they get to the specific colors in their beer.  Most beer is made with an appropriate base malt (usually pale malt for ales, and pilsner malt for lagers) and then the remainder of the beers malt structure will tailor it toward its intended style.  All beer style has a range of acceptable color and you can get there by going a few different ways.
"We place our Oktoberfest at around 9-10 SRM (7.5Lovibond) and part of the move toward a firm orange color begins with bumping our base Pilsner malt up with a sizeable addition of Vienna malt," said Mosley. "Between the two we are at 90% of the total malt bill for the brew.  We use two other specialty malts to intensify color and flavor, but clocking in at just under 10% of the remaining bill keeps those components blended in nicely. For a counterpoint, instead of the addition of Vienna (3.4SRM), we could use Munich Malt (7.4SRM) to start pushing color more deliberately but in my estimation, Munich is too strong a flavor and would add too much tension in the recipe."
In my opinion, Civil Life is nailing it. I've barked about my love for their American Brown in previous articles. So, I'm not surprised to hear that while American Brown is their number one best seller, Oktoberfest is their second.
The Particulars
ABV: 5.1%
IBU: 23
INGREDIENTS: German Pilsener and aromatic malts. German bittering and aroma hops. German lager yeast. South St. Louis City water and labor.

Tasting Notes:
1. Oktoberfest pours bright orange with a slightly off white head.
2. On the nose, you'll find the meeting point between the Vienna Malt and the specialty malts and get a very small amount of baked fruits before the hops give in to more of a spice-boxy thing going on.
3. On the tongue, I think that one of the best attributes of this brew is the depth of malt that they were able to coax out. A side-by-side with their Vienna is interesting as the Vienna clocks in at 85% base malt but in inverse proportions (pils to vienna) to the Oktoberfest.  Where the two beers also  differentiate is in the deeper more compressed malt flavors of the Oktoberfest by using a darker version of Crystal Malt.  You'll get a slight sweetness to the Oktoberfest that is less apparent in the Vienna.
Cans of Oktoberfest are already available at the Civil Life Brewing Taproom and through their distributor in Southern Illinois.