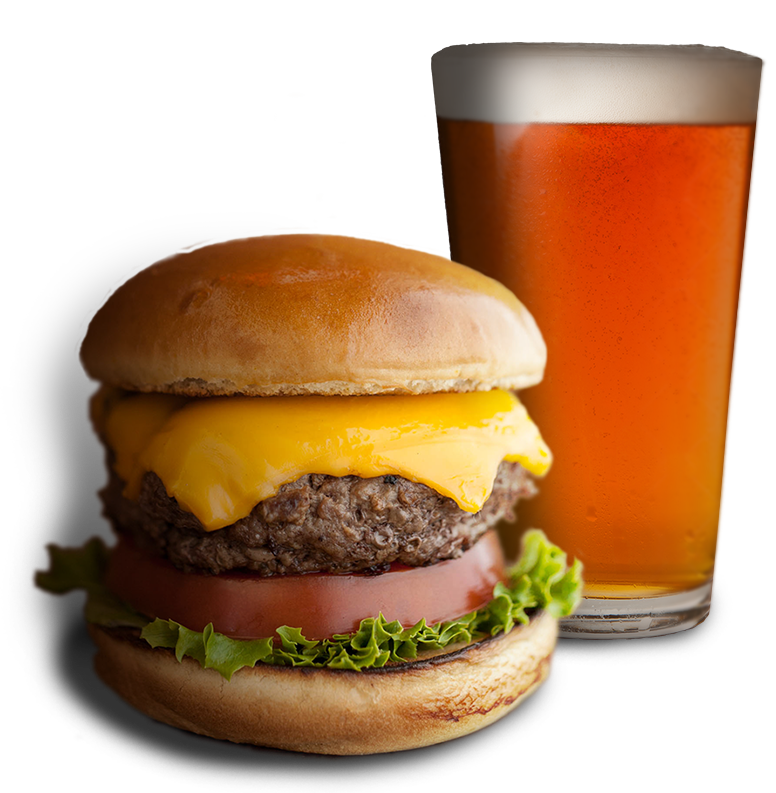 This will be the first of what I hope will be a fun series of articles. 
One of my favorite things about beer is that it goes with so many things, and with somethings, it's sort of like a religion. For example, I cannot attend a Major League Baseball game without a beer. Can't do it. At the same time, I love finishing a bike ride with a beer.  I can't sit next to a campfire without a beer. Can't ride in a boat, can't wake up in New Orleans, can't sit on the beach or a pool – all without a beer.
I also can't eat certain foods without a beer, but with food, finding the right beer is as much fun as drinking it. See, this year I started to really understand how the beer can affect the taste of the food, and vice versa. A local chef taught me to not overthink it too. He taught me that lighter foods go well with lighter beers and heavier beers go better with heavier foods in terms of the flavor profile. This ensures that one doesn't overwhelm the other.
Knowing this helped me understand the focus I needed to put forth, to actually make food and beer pairing work, or in some cases not work, but overall, make them more fun.
St. Louis, like many beer towns, is also enjoying a burger renaissance. Craft burgers are getting more creative, more elaborate, and have more WOW factor. Varying meats, varying toppings, spices, bread, veggies, condiments, it's all growing so fast. Now, it's almost a challenge just to know what to order. Craft burgers and craft beer – they are just made for one another.
I reached out to some of my favorite St. Louis burger joints, to find out more about their thoughts on pairing beer and burgers. I also asked them to pick one of their signature burgers and pair that burger with a locally crafted beer.
We begin with the amazing Stacked STL. Grab a napkin, because you're mouth will be watering.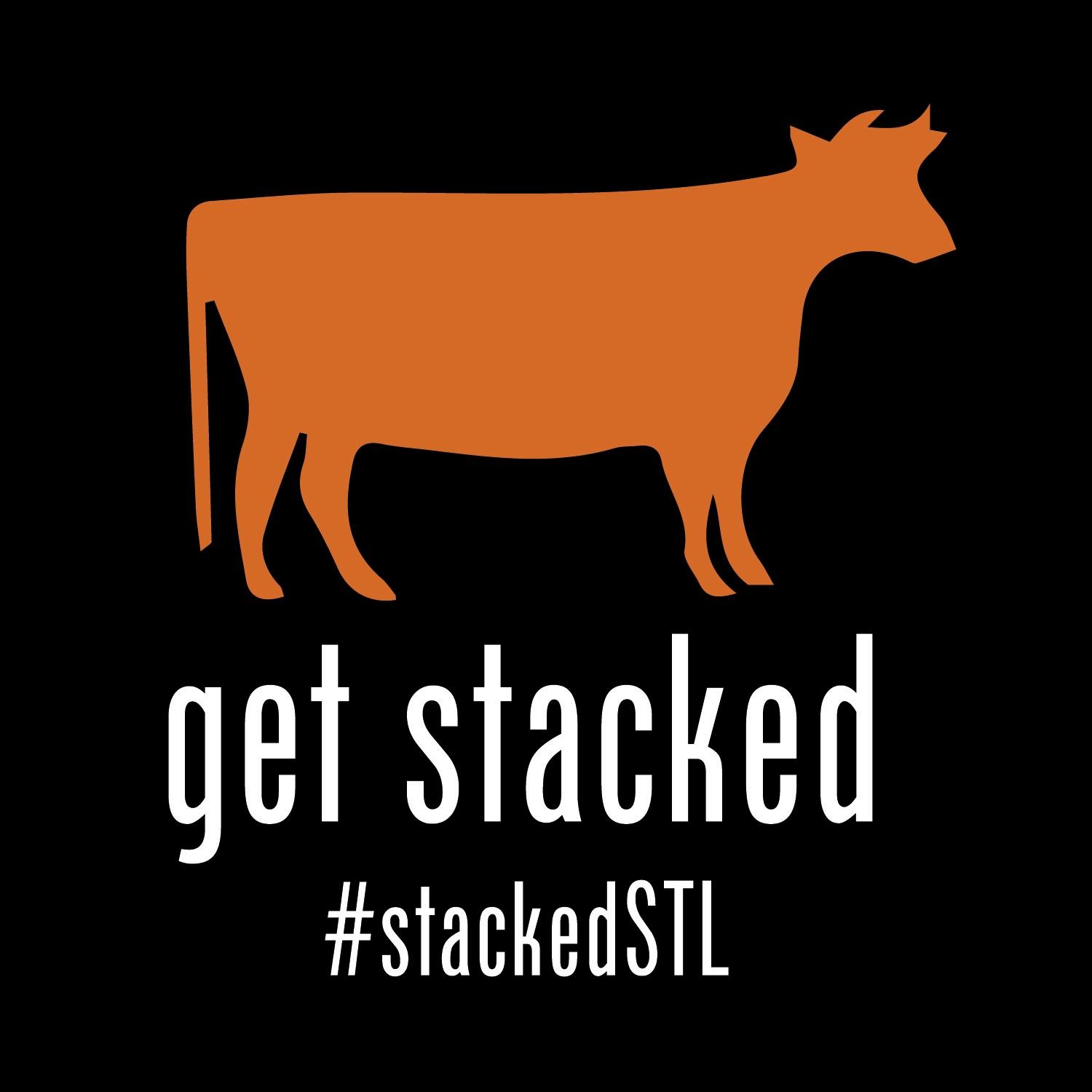 Stacked STL is located at 7637 Ivory Street in the historic Carondelet neighborhood and quickly became a family favorite of ours.
"Stacked STL is lucky to be in business during St. Louis' craft beer renaissance because nothing goes better with a burger than a nice cold beer," said Jim Blackburn, the front of house manager at Stacked STL. " We believe that the right beer with the right burger can showcase the flavors of both. Beer can have complementary flavors, contrasting flavors, or can also take a step back, to let the food stand on its own."
At Stacked, they use pairings when guests have narrowed down their choices to a couple of options they are comfortable with. They feel the best pairings come from individual preferences.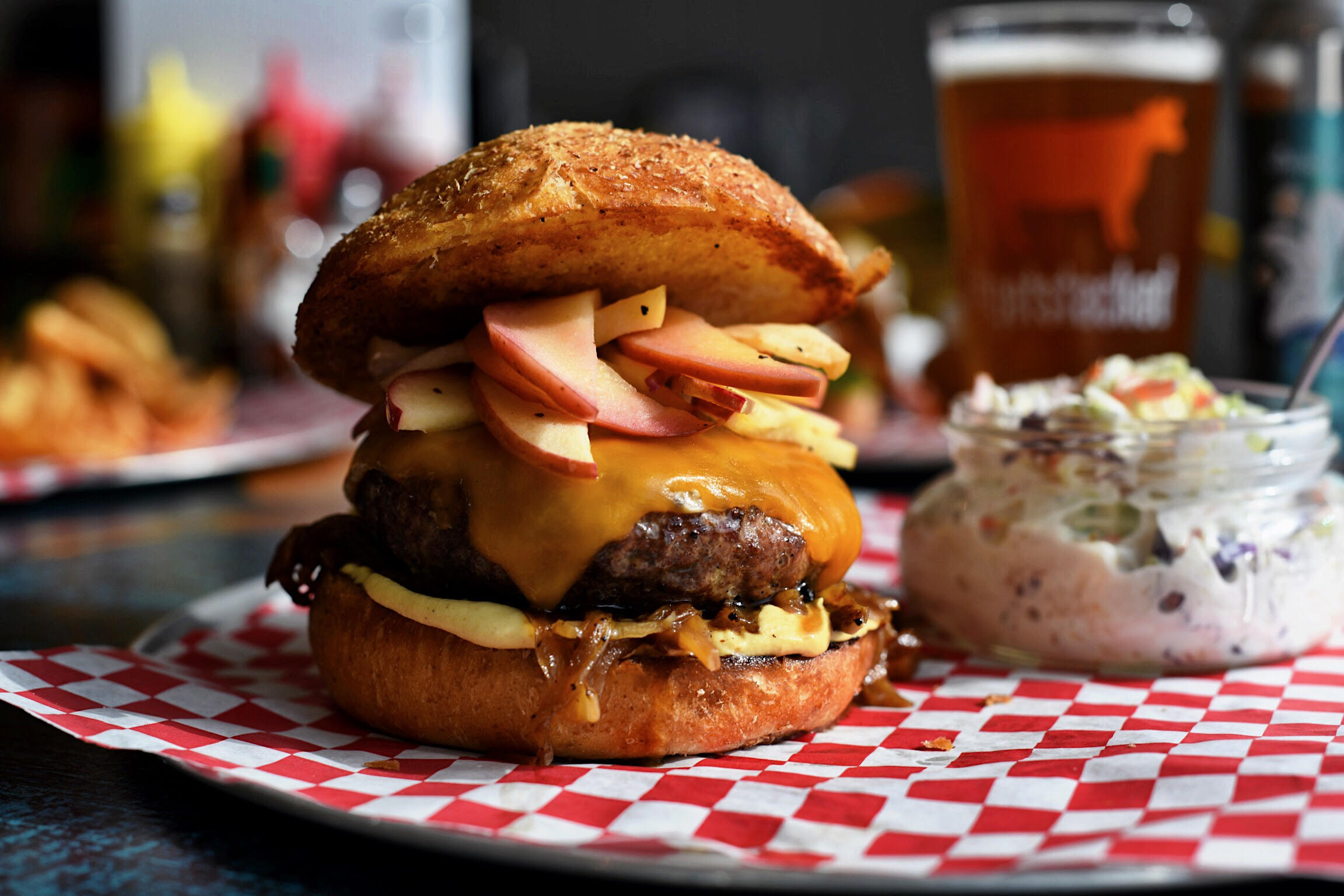 The burger of choice today is "The City Pig." It starts with a heritage pork patty, which is locally sourced from Boekman Farm. It is topped with sharp cheddar cheese, roasted apples, caramelized onions, and dijon mustard. "I think the burger pairs really well with Civil Life's American Brown Ale, because of the complexity of both," said Blackburn. "The smooth malt in the beer evens out the sharp cheddar on the burger, and the light sweetness in the beer works well with the saltiness of the pork."
Other favorites on the Stacked STL menu include:
The Wet Nap $ 11.25
Ground Chuck smothered with BBQ Brisket, House-Made Cheese Sauce and Crispy Fried Onions on a Brioche Bun
Pair it with Schlafly Pale Ale. The strong hops notes will likely dance with the spices of the barbecue sauce, 
The BLT $10.25
Ground Chuck, Garlic Roasted Tomatoes, Spring Mix, and Bourbon Bacon Maple Jam on Texas Toast
Pair it with Six Mile Bridge's Cinnamon Stout. I kid you not. The light burst of cinnamon jives with the jam.
En Fuego $11.00
Ground Chuck, PepperJack Cheese, Roasted Corn Guacamole, Crispy Fried Jalapenos and Chipotle Aioli served on a Brioche Bun
Pair with 2nd Shift's Little Big Hop. Actually, any NEIPA would do here. I like the juicy style with the Jalapenos.
The Goat $10.50
Ground Chuck Topped with Goat Cheese and Onion Jam on Brioche Bun
Pair with Stubborn German Brewing's Hip Czech Pilsner.