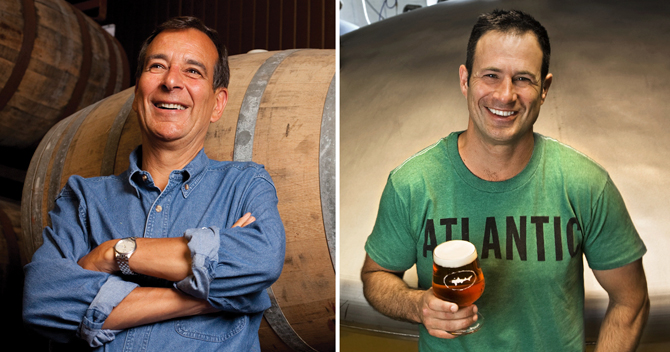 It isn't every day that the entire craft beer world is rocked with big news, but on Friday, it happened.
Friday, we learned that two giants in the craft beer world were merging. Dogfish Head and Boston Beer Company announced the signing of a definitive merger agreement valued at about $300 million.
Eight years ago, Dogfish Head and Boston Beer Company teamed up to brew a collaboration beer for the annual SAVOR craft beer and food pairing experience. It was a hit.
Locally, Boston Beer (Sam Adams) has been available for decades, but it was just about two years ago, in July of 2017, that Sam Calagione finally brought his popular brand to St. Louis, and we were the only media he sat down with, albeit, I did the interview for my day job at KSDK.
The merger brings together the Brewers Association's second-largest craft beer maker, Boston Beer, with the 13th largest craft brewery, Dogfish Head. Both companies will retain their status as BA-defined independent craft breweries.
Not that it's any of my business on how someone grows their business, and because another renowned brewer once told me that no one got into brewing to get poor, I am of the belief that this is good for craft beer. I know some might think of Boston Beer as "big" beer, but I don't. I hope this move only creates more product for you and me to consume at our leisure, which frankly is the point of beer.
What do you think?
For fun, here is the rest of the article with Calagione of Dogfish Head Brewery.
Brewing legend visits STL, and yes, he brought beer
There is no question that St. Louis is the quintessential beer town. As the home of the original Anheuser Busch, St. Louis has long been on the beer map. But now that the King of Beers is part of InBev, is St. Louis the beer town it once was?
You bet.
St. Louis' brewing spirit has never wavered and the now 50 plus craft breweries in our region are proof. In fact, as I write this at 4 p.m. on July 12, 2017, Good News Brewing is literally pouring its first beers as they open to thirsty St. Louis beer lovers.
There are many names and breweries who helped build what is now a growing local brewing community. But if you asked many of our local beer makers – 'who influenced them?' many just might say Sam Calagione of Dogfish Head Brewery. I don't throw the word legend around lightly, but Calagione is a bona fide brewing legend in my book.
Speaking of books, Calagione basically has written the book on craft brewing, authoring several bestsellers including his most recent "Project Extreme Brewing: An Enthusiast's Guide to Extreme Brewing at Home."
He's even a James Beard winner, receiving the award as the country's most Outstanding Wine, Beer, or Spirits Professional after being nominated for seven consecutive years.
With Calagione's leadership, Dogfish Head brewery and its stable of unique and off-center, beers have become renowned around the world, including St. Louis. But if you were a Dogfish Head fan living here, you would be hard pressed to find any around. Those days are over.
This week, Calagione arrived in St. Louis to kick off his summer project, "The Ale Trail" a 12 city, beer drinking excursion across the country to celebrate the release of three brews, all to be enjoyed out of a can. For the first time ever, Dogfish Head is bringing the brew nearly 1,000 miles across the Midwest for St. Louis craft beer lovers to enjoy.
"Dogfish Head has always been different – not by choice, but by nature," said Calagione, just before a release party on top of the Moonrise Hotel in University City. "When we brew beer, we aren't just using the freshest ingredients, but pulling ingredients and inspiration from the most remarkable and 'off-centered' places on earth. The Ale Trail gives the people of St. Louis the space to explore that uniqueness right in their own city."
"St. Louis is one of the true American beer drinking cities. And we have lots of friends here. I grew up in the industry with Dan Kopman formally of Schlafly's and Tom Schlafly as well, the guys from Urban Chestnut and lot of great breweries in this state. But it's also altruistic and supportive of the while craft movement. St. Louis folks like to try an explore new and interesting beers, so we're super excited to be here."
Dogfish Head's long-awaited arrival brings three remarkably different beers which you can now find all across St. Louis.
SeaQuench Ale: This refreshing session sour is brewed with lime peel, black lime and sea salt. Dogfish Head partnered with the National Aquarium to source the right blend of sea salt; replicated from Maine and the Chesapeake Bay.
Calagione recently said, "SeaQuench Ale, is the result of more than two years of research, with the goal to make it "the most objectively thirst-quenching beer" we've ever produced. It also has only 9 carbs.
Video: What is SeaQuench
60-Minute IPA: The most popular Dogfish Head brew in St. Louis, the 60-Minute IPA has more than 60 hops continuously added over a 60-minute boil. This powerful yet balanced East Coast blend has a lot of citrusy hop character.
Video: What 70s era toy helped create 60 minute IPA?
Flesh & Blood IPA: Beginning with real citrus, including blood orange juice and lemon flesh, this simple, pure and unadulterated fruit was slowly incorporated with the perfect combination of hops to give a rich, unique flavor.
Video: The story behind Flesh & Blood
Calagione's approach to beer and his immense support of the craft industry is why craft beer fans are fans of his. He recently spoke up on a controversial issue that hit home for many in St. Louis. Recently Anheuser Busch-InBev and its subsidiaries have been acquiring more craft beer related properties ranging from breweries to hop farms. In June, Calagione spoke up about big beer's marketing of beer made by craft brewers they've acquired as well as ZX Venture's purchase of a portion of the beer website RateBeer.com. He called it "a blatant conflict of interest and requested the site remove all Dogfish Head beer reviews and mentions immediately.
"First off, there are a lot of talented and excellent people and brewers making good beers and working at AB-Inbev, but from my perspective, I started to see a growing trend and better opportunity for a call to action for more transparency on issues of authenticity, they could really put who owns the beers on the bottles and cans and where they're really made but they're still marketed as if they're coming from these small, regional breweries. So for us it was not a question of quality, frankly, we believe consumer deserves to know who make the beers that they're drinking."
Controversy aside, Calagione's visit to St. Louis was about fun and good beer. His beer is stellar, balanced, delicious, consistent and hopefully, the St. Louis market will see more Dogfish Head beers coming to town.
Prost.
Old Arena Lager is Center Ice Brewings tribute to the Blues and the Old Barn