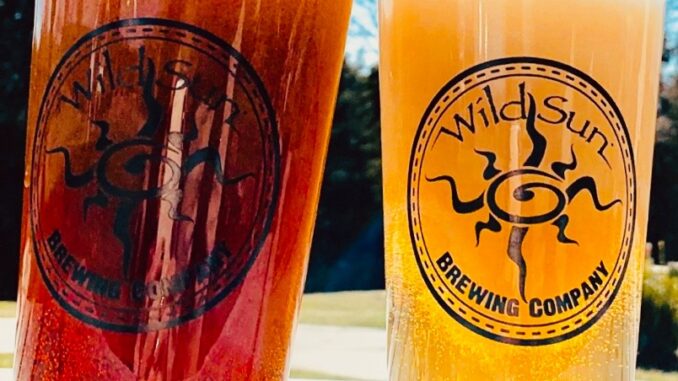 Back in 2018, Wild Sun Winery of Hillsboro announced it was partnering with Brew Hub to produce its own beer portfolio. The winery has served beer since it opened, but now it's ready to make their own.
Now, the first two beers from Wild Sun are ready for release.
Wild Sun American Blonde Ale (4.3 % ABV and 11 IBUs) is a crisp and fresh beer with a smooth finish, and Wild Sun Sunset Red Ale (5.2% ABV and 22 IBUs) is a slightly toasted and caramelly ale with a clean, malty flavor.
Wild Sun's veteran brewmaster, Jim Kron, along with Wild Sun owner's, Ed Wagner and Mark Baehmann, spent the past several years fine tuning their beer recipes and will now brew both beers at Brew Hub's 4-barrel pilot brewing system in St. Louis. The beers initially will be available as draft and are currently available at Wild Sun. Beginning May 9, they will also be available at the Brew Hub Taproom in St. Louis. Expanded distribution and packaging are expected later this summer.
"When it came to developing the beer side of the business, we debated and evaluated many options such as whether to build our own brewery and purchase our own equipment," said Ed Wagner, co-founder of Wild Sun Winery. "When we learned about the ability to partner brew in small batches at Brew Hub, we knew we found the perfect solution. Our brewmaster and recipes – their expertise and equipment. Working with them has allowed us to bring our high-quality beers to market while minimizing our risk and investment. It's the ultimate win-win."
Wild Sun Winery was co-founded by 35-year wine-industry veteran, Mark Baehmann, who applied his winemaking skills at several prestigious Missouri wineries and 27-year beverage-industry veteran Ed Wagner, formerly of Anheuser-Busch. The winery opened in September 2015 on a 10-acre estate in Hillsboro and has since won multiple medals for its high-quality wines. Wild Sun was named "Favorite Winery of 2017" by the St. Louis Post- Dispatch and "Best Winery of 2018" by Feast Magazine, and is the official Wine Partner to the St. Louis Football Club.
"Our partnership with Wild Sun is at the core of what we do at Brew Hub," said Diane Schoen, vice president of marketing of Brew Hub. "Whether it's on our pilot system in St. Louis or at our 100,000-barrel brewery in Florida, we help craft brewers of all sizes grow to the next level. We're excited to work alongside the Wild Sun team, and we look forward to helping bring these great beers to market."
Brew Hub will be serving up Wild Sun's American Blonde Ale and Sunset Red Ale at the Brew Hub Taproom during a release party on Thursday, May 9th from 5:30 to 9 p.m.
Live music will be provided by the John Jarrett Band from 6-9 p.m.
New collab debuting during Great Rivers & Routes Craft Beer Week
Drinkin' For A Cause | Schlafly brew helping local dogs and cats find forever homes
Beer Bash is perfect introduction to the Southern Illinois Beer Trail