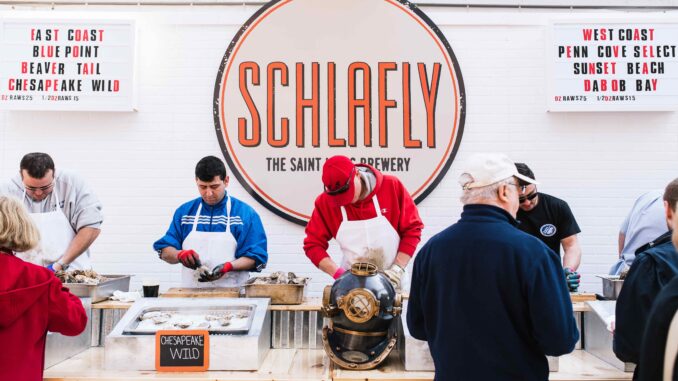 Oysters are not for everyone and not every oyster is for anyone who loves oysters.  I happen to prefer oysters from the Gulf Coast or the East Coast over the West Coast, but I'll probably never turn down an oyster.
The key to eating oysters is not over sauce, but use just enough fresh cocktail sauce to add some punch without drowning the oyster.
While New Orleans is my favorite place to eat oysters, I can't always get down there when I have a hankering, which usually occurs in mid-March, right after Mardi Graw. Thank goodness for the Schlafly Stout & Festival.  This year will be the 20th annual festival and it's all going down the weekend of March 22nd and 23rd at the historic Schlafly Tap Room (2100 Locust).
Recently named one of CraftBeer.com's Great Beer and Food Festivals of 2019, it is the largest festival of its kind in the Midwest. Schlafly flies in almost 80,000 oysters (overnight, to be the freshest possible) from both coasts; hosts 25 seasoned oyster shuckers to shuck oysters live all weekend long; and brews 10 stouts exclusively for the festival. 
The ten new stouts will also be available in the now signature Stout Sampler, with flavors from barrel-aged stouts like a Cherry Barrel Aged Stout to the sweets-inspired S'more Stout and Peanut Butter & Jelly Stout. Things even get a little spicy with a Tabasco Stout.
Schlafly's Stout Sampler (Photo by R.J. Hartbeck); Shuckerdome (Photo by Spencer Pernikoff) 
There will be three East Coast and three West Coast varieties of raw oysters available both inside and outside the Schlafly Tap Room with raw bars upstairs in the Club Room as well as outside in the "Shuckerdome." Fried Oysters, Oysters Rockefeller, Roasted Oysters and Oyster Chowder will also be available as well as several bars with additional Schlafly Beer styles.
Photos by Spencer Pernikoff
Live music and the grand finale of the Stout & Oyster Shuck Off provides entertainment for attendees. The Shuck Off features three shuckers from all three teams (East Coast, West Coast and No Coast) going head-to-head in a relay-style race to shuck, slurp and then chug a stout. The fastest time crowns the winner. The full schedule includes:
Friday, March 22:
5 p.m. to 6:30 p.m.: The Provels
7 p.m. to 9 p.m.: Naked Rock Fight with Dawn Weber
Saturday, March 23:
11 a.m. to 12 p.m.: The Scandaleros
12:30 p.m. to 1:30 p.m.: Hip Grease
2 p.m. to 3:30 p.m.: Funky Butt Brass Band
4 p.m. to 5:30 p.m.: The Grooveliner
6 p.m. to 7 p.m. & 7:30 p.m. to 8:30 p.m.: Hazard to Ya Booty
8:30 p.m. to 9 p.m.: Stout & Oyster Shuck Off
For traveling guests, Schlafly Beer has partnered with Lodging Hospitality Management to offer the Shuckers' Inn hotel package at The Cheshire (6300
Clayton Rd, St. Louis, MO 63117). Package guests will receive exclusive amenities like a mixed six-pack of Schlafly stouts, two commemorative Schlafly glasses and voucher for two Schlafly t-shirts and two 1/2 dozen (6) oysters to be redeemed at the festival. You may even see a shucker in the halls of the hotel! The package starts at $159 so the room rate and package perks offer a savings over 36%. You can book the package here.