Beer is not exempt from the sweetness that honey can bring to life.  In fact, beer and honey have been in 'collaboration' or years. But only recently have I begun noticing more breweries and restaurants raising their own hives to ensure a constant flow of the sweet nectar to be used in any creative way.
Honey can be used in many ways when it comes to brewing.
Mead is a fermented beverage made exclusively with honey as the sugar source for fermentation
A Braggot is a Honey-Beer hybrid beverage
A Cyser is a Honey-Cider hybrid beverage
Honey can be used as an adjunct sugar source for Belgian and French style ales (i.e., in conjunction with or instead of Belgian Candy Sugar)
Honey can be used in naturally carbonating (tank and bottle conditioning) beer and other fermented beverages
Depending on the use, honey can add alcohol, flavor, aroma, mouthfeel, and complexity to any fermented beverage.
This past week, I noticed a Facebook post from local brewing giant Urban Chestnut, highlighting that they too are raising their own hives and making their own honey.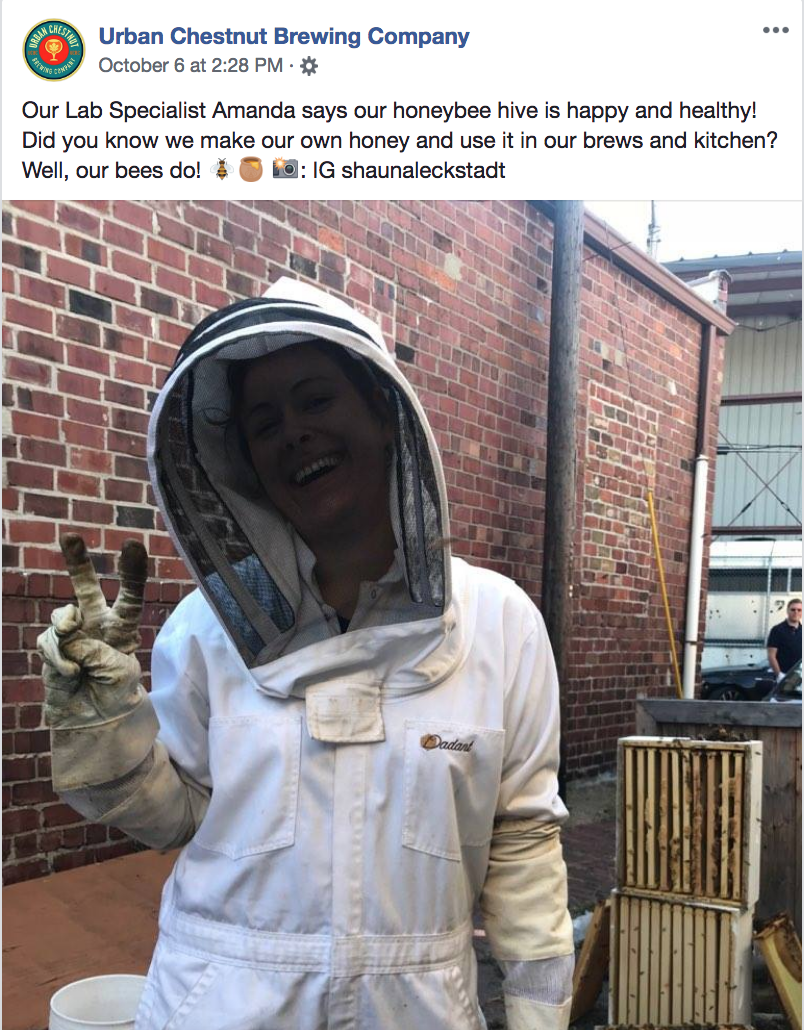 After the brewery hosted the National Honey Beer Summitt in August of 2017, Urban Chestnut Lab Specialist Amanda Mikolay got busy.  "The year after we first hosted the National Honey Beer Summit – we networked with local city hive groups and sourced our first hives the next year," said Mikolay.
The hives were originally kept on the roof at the Grove brewery – but it was too hot up there so they were moved to a sheltered space between the warehouses on the north side of the Brewery.
"We started with 2 hives but currently have just one. Although I have not personally counted, a typical hive contains approximately 2,500 bees (approx 2,000 female worker bees, 1 queen, and approx 500 male drone bees)."
Harvest season is held in July when the bees are in full swing collecting nectar from the surrounding flowering plants. Harvesting in July is extremely important so that hives can collect more nectar between August through October so they have enough food to last the winter.
When it comes to beer styles, there are many that can benefit from an infusion of honey. Belgian styles and French Styles (think farmhouse ales) are natural fits. Lighter bodied beers that can feature the delicate aromas and flavor of fermented honey are great partners for honey, as well as some stouts, like a Milk Stout, which can handle more robust varieties of flavoring.
Right now, UCBC is busy growing its honey-based beer menu. Right now they offer 4 such beers:
Honey Weisse – Honey Wheat Ale
Honey Grove – Honey Lager
Honey Milk Stout
Russian Imperial Braggot
A big reason why UCBC chooses to maintain their own hives is not only about production, but also their commitment to sustainability-focused brewing methods. "These intentional measures help us be a better global and local citizen," said Mikolay. "The hives support our local pollination efforts.  We operate a city garden on site and support city gardening actively through donations.  Any honey we get from the hives that we don't use in brewing can be used creatively to support local apiarists and city gardens."