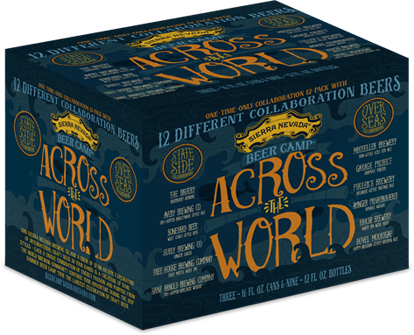 Rare beer is what you make of it.  But good beer is good beer.  And so far Sierra Nevada has not disappointed this beer lover.
That's why I was happy to see a post on my Facebook feed today from Peel Wood Fired Pizza.
A visit to the link included reveals quite a backstory for this rare collaboration between Sierra Nevada and 12 other breweries, six from the United States and six from overseas.
The Breweries
Fuller's Brewery – London, England | Atlantic Style Vintage Ale
Garage Project – Wellington, New Zealand | Campout Porter
Avery Brewing – Boulder, Colorado | Dry Hopped Barleywine Style Ale
Duvel Moortgat – Puurs, Belgium | Hoppy Belgian Style Golden
Saint Arnold Brewing – Houston, Texas | Dry Hopped Berliner Style Weisse
Ayinger Brewery – Bavaria, Germany | Dunkle Weisse
Tree House Brewing – Monson, Massachusetts | East Meets West IPA
Surly Brewing Company – Minneapolis, Minnesota | Ginger Lager
The Bruery – Placentia, California | Raspberry Sundae Ale
Mikkeller Brewery – Copenhagen, Denmark | Thai Style Iced Tea Ale
Boneyard Beer – Bend, Oregon | West Coast Style DIPA
Kiuchi Brewery – Ibarski, Japan | White IPA with Yuzu
We did a search to find where you can find the Across The World collaboration in Missouri, and according to Sierra Nevada, you will also find the beer in Missouri at Three Kings Public House in University City.