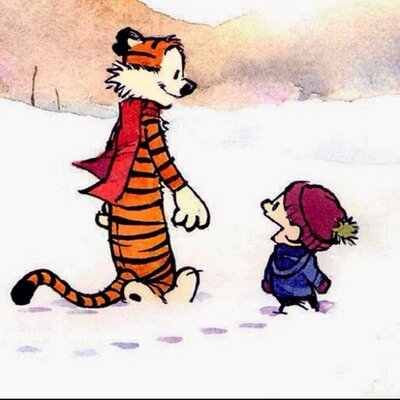 Today, I'm bringing together two of my favorite things in life, beer and Calvin and Hobbes. I have been a Calvin and Hobbes fan since it first debuted in back in the 1985.  Frankly, I couldn't ever get enough of this strip and was broken hearted when author Bill Watterson ended the comic in 1995.
But I recently discovered that Calvin and Hobbes is alive and well, via social media.  Each day the strip's official website publishes a strip and posts it on social media.  This means you can get strip right on your phone or laptop as if it was brand new.
This also means I can have some fun, and a beer pairing with each strip, something that as far as I can see has never been done.
Here we go.
March 5th Strip
— Calvin and Hobbes (@Calvinn_Hobbes) March 5, 2017
Beer Pairing
For my first pairing, this was a no brainer.  If there is snow on the ground and Susie is nearby, Calvin will most certainly have a snowball in his hand, ready to smash it into Susie's face.  But as usual, Susie is too clever and outsmarts our hero.
Snowball Fight | Only Child Brewing Company
Style: American IPA
Alcohol by volume (ABV): 6.50%
Availability: Year-round
I mean really, could this beer and the brewery fit this comic strip any better?  (Calvin is an only child if you don't know).
Child Brewing Company is a small batch, family owned brewery in Chicago's North Shore.  As a Husband & Wife team, (Ben & Amanda Rossi) put our heads & hearts into bringing their passion to our glasses & it is very plain to see that all of our beers are brewed with artistry & a great deal of care.
I have not yet found this beer in St. Louis and could only find one review.
Label looks like it was typed using Microsoft WordArt and slapped on a bottle. Fortunately, the product inside is better than its presentation. Dark for an IPA, unfiltered, impressive lacing and generous mouthfeel. Sweet and tart, not a hop monster.

Bottom line: Not a game-changer, but quality ingredients and drinkability make it a winner.