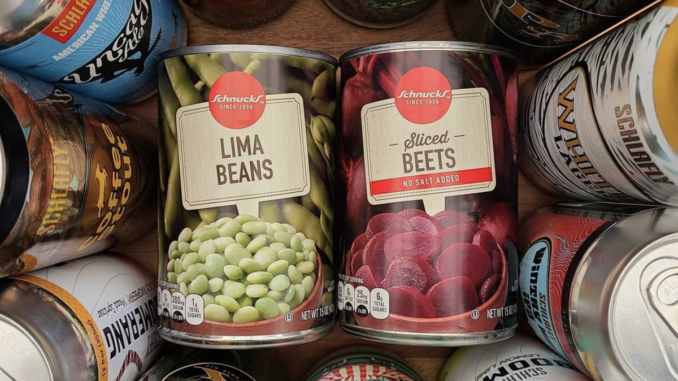 Schlafly offering free beer with return of 'Cans for Cans' program
We're on a mission to shine a light on how brewers around the St. Louis region are using their beer and time to help out our community.
Drinkin' For A Cause – is us on the lookout for any event, beer release, or genuine "good idea" that brings beer and beer lovers together for a good cause.  If you know of an event, please post the information on our Facebook page.
---
 Schlafly Beer, St. Louis' original, independent craft brewery,  announces the return of their seasonal "Cans for Cans" program, a food drive initiative for the holiday giving season to benefit Operation Food Search.
From now until Monday, November 30, St. Louisans can donate two non-perishable canned goods to the Schlafly Tap Room (2100 Locust Street, Maplewood's Schlafly Bottleworks location (7260 Southwest Avenue) or St. Charles' Schlafly Bankside location (920 S Main St, St Charles, MO 63301) and receive one can of Schlafly beer.* All donated canned goods will be donated to Operation Food Search, the largest distributor of free food in the bi-state region for those in need.
Last year, Schlafly donated 3,555-pounds of food to Operation Food Search thanks to the St. Louis community and their support of the Cans for Cans program.
Founding Brewer Stephen Hale says, "We're incredibly grateful for the support of our community during these uncertain times and feel that it's our duty to help look out for others in this time of need. Now more than ever, local food banks need our support. St. Louisans have helped to make our 'Cans for Cans' initiative a success for four years running and we look forward to making this year's program the biggest success yet."
Operation Food Search provides food and services to nearly 200,000 individuals on a monthly basis. More than 392,000 people in the bi-state region rely on the Foodbank for assistance each year.
In addition to the partnership with Operation Food Search, Schlafly has also partnered with Saint Louis BWorks as part of their annual #STLCranksgiving fundraiser to help bring in even more food donations for local insecurities this holiday season.
*One can of Schlafly beer is redeemable for every two non-perishable canned food items donated. Guests can donate up to 12 canned food items to redeem up to six cans of beer per visit. Must show proof of 21+ ID with a donation.
More From Drink314