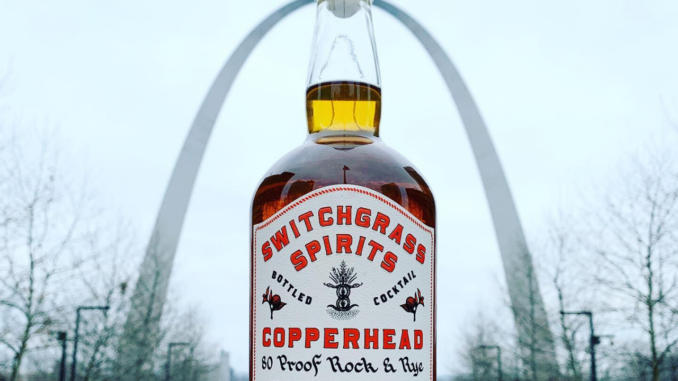 Switchgrass Spirits Now Available
It's no secret that Missouri whiskey is prospering, highlighted by the creation of a unique class of spirits called Missouri Bourbon Whiskey. And the good news continues, because Missouri, and St. Louis are about to get another new distillery.
Switchgrass Spirits is now officially in business, and with it providing Missouri whiskey lover's more local options to enjoy.
The Backstory
The Switchgrass story began back in 2017 when the distilleries principals, Nick Columbo, Sarah Miller, and Pat Grosch, made their dream to create high-quality whiskey and brandy using regional labor and ingredients a reality. Jerry Seelbach later joined the team in 2019. Now, in 2020 after years of honing their skills, they are ready.
The distillery is housed inside a refurbished historic American Legion Hall in Wellston. "We have a beautiful vaulted wooden ceiling that leaves a lot of space for our tanks," said Seelbach.
The building is divided into two sections. On one side is the distilling equipment. On the other side, the barreling room where their spirits are stored and aged.  Switchgrass is currently using barrels from Tracy Cooperage here in Missouri. They are using 53-gallon barrels to age their first batches of whiskey and brandy, but are experimenting with 15 gallon and 30-gallon barrels.
"We think the 53-gallon barrels retain more of the original flavor of the clear spirit that we put in," explains Seelbach.
"Another fun thing about our building is our floor," said Seelbach. "We recycle the hot water from our distilling process through our floor to heat our barreling room up to 60 degrees while conserving energy. This is especially important over the winter when temperatures get very low."

The Name
The name Switchgrass Spirits is rooted in the amazing scenery that is Midwestern prairies and the oceans of switchgrass that stretch as far as the eye can see.
"A single blade of grass might not have looked like much, but all together, they created one of nature's most beautiful and simple masterpieces. Switchgrass Spirits was made possible by so many people coming together to create something bigger than themselves," said Seelbach.
The Distilling
Switchgrass Spirits uses batch distilling. They use both a 5 plate column still which allows them to further fractionalize their cuts and separate off-flavors from desired flavors in their spirits and an alembic pot still which is the most traditional kind of still. They use it for their European-style fruit brandies.

Their distilling philosophy is simple and direct. They w
on't make decisions based on financial reasons.
For their whiskeys, they will use sweet mash rather than sour mash. Sour mashing is when previously fermented mash, from a previous batch, is used in the following batch.
"We sweet mash in sealed fermenters which means we use fresh yeast for every batch," said Seelbach. "This gives the whiskey a fresh, sweeter taste. It also means that we have to pay close attention to cleaning our equipment."
Switchgrass does cuts strictly by taste rather than alcohol percentage. They also take pride in their ingredients which are thoughtfully sourced. "We're especially excited about our apple brandy which is made from 100% Jonathon apples from Happy Apple Farms in Washington, Missouri," said Seelbach.
First Releases
Our first tastes from Switchgrass Spirits will come early February, in the form of a canned cocktail.
Copperhead Rock & Rye is described as a  bottled cocktail with a bite! This delightful drink was made popular during prohibition when doctors would "prescribe" this supposedly medicinal spirit for patients suffering from coughs," said Seelbach.
Switchgrass distills their own sweet mashed rye whiskey and combines it with Belgian rock candy, real citrus peel, horehound, and spices to create Copperhead's unique taste. Copperhead is recommended as a shot, on the rocks, or as a cocktail with your favorite seltzer. Copperhead is 40% alcohol by volume (80 proof).
The list of local bars and establishments where you can find Copperhead is growing quickly, but so far here's where it's at:
The Whiskey Ring
Tick Tock Tavern
The Fortune Teller Bar
Fox and Hound Tavern in The Cheshire
Pat Connolly Tavern
Parkers Table
Civil Alchemy
The Wine And Cheeseplace
Craft Beer Cellar South City
Local Harvest STL
Their first batch bourbon is expected to be released in the first week of March.
Switchgrass Spirits Now Available