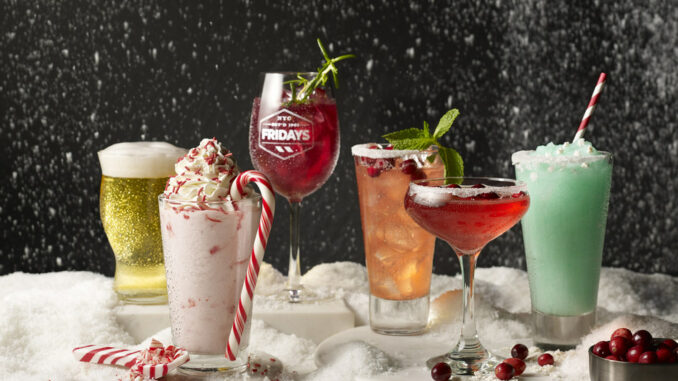 TGI Fridays debuts three new cocktails.
I'll be honest, once upon a time, I was the master of flair, but if that means nothing to you, you've never seen the film Office Space or worked at TGI Fridays or both. Flair is the word used to describe just how much 'spirit' you have, per button messaging on your company-issued suspenders.
I had flair, and I served up some serious cocktails in my day. This was the years before mixology, and craft cocktails so we're talking about basic cocktails here. But, those days are long gone.
Now there is something new in the shaker at Fridays, as they are clearly looking to up their cocktail game. The bar is launching a partnership with Delish, to create a unique new festive holiday cocktail menu.
Beginning December 1st, TGI Fridays will be featuring three cocktails co-designed by TGI Fridays and Delish cocktail editors for the entire month of December.
Mistletoe Margarita – Jose Cuervo Especial Silver Tequila mixed with triple sec and cranberry juice served in a frost-rimmed glass.
Santa Clausmopolitan – SKYY Vodka, triple sec, pomegranate and cranberry juices all shaken with ice and poured into a classic martini glass with a sippable sugar rim.
Jack Frostie – SKY Vodka, blue 

Curacao

 and Wycliff Brut Sparkling Wine blended together into a chilly slushie and topped with snowflake sprinkles.
Other $5 Holiday Beverages
Alongside the Delish featured cocktails, the TGI Fridays holiday drink menu includes a few other seasonally influenced beverages at the same $5 price point.
Holiday Sangria – Captain Morgan Spiced Rum, Canyon Road Cabernet, pineapple juice, vanilla, and cinnamon sugar for a spicy-yet-fruity rendition of traditional red sangria.

Candy Cane Shake

 – Vanilla ice cream with peppermint, whipped cream, and sprinkles – also available with Captain Morgan Spiced Rum for just 

$2

 more.
Bacardi Rum & Coke.
More On Drink314
TGI Fridays debuts three new cocktails.