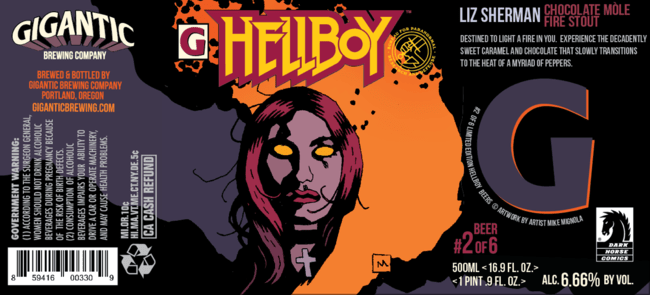 What a great way to introduce myself to a Mole Stout.  This on the heels of seeing Avengers – Endgame last night. So, on the heels of Free Comic Day on May 4th, I'm in the mood for beer and heroes.
Today, I am at Apotheosis Comics, located at 3206 South Grand, where I got to be among the first in St. Louis to taste the newest addition to the Hellboy beer series. In commemorating the 25th anniversary of the publication of Hellboy: Seed of Destruction, Oregon's Gigantic Brewing and Dark Horse Comics teamed up to create 666 cases of Hellboy beer, based on award-winning cartoonist Mike Mignola's legendary character.
All told, Gigantic Brewing will release six different Hellboy beers, with each of the six beers named after a character from the four-issue comic book mini-series that debuted in March 1994, and each release will also feature artwork from Mike Mignola, the award-winning cartoonist  The first beer, Hellboy, featured a maple syrup and pancake profile.
Today, we are trying the second beer in the series, the Liz Sherman Mole Chili Stout. Sherman is a member of BPRD, a flame-wielding, on-again, off-again love interest of our hero, Hellboy.
Hellboy: Liz Sherman is a 6.6 percent "mole chili stout" brewed with chili peppers and chocolate. The limited edition beers will be released in the following order and feature different flavor profiles:
Hellboy (6.66 percent ABV) — Maple syrup pancake beer — March 15, 2019
Liz Sherman (6.66 percent ABV) — Mole chili stout — April 27, 2019
Johann Kraus (6.66 percent ABV) — Citrus wit beer
Abe Sapien (6.66 percent ABV) — Indigo blue fruit ale
Blood Queen (6.66 percent ABV) — Cranberry yuzu sour
Trevor Bruttenholm (9.66 percent ABV) — British barleywine
One Devilish Deal, but arrive early
Free Comic Book Day (FCBD) 2019 features an amazing selection of comic book titles for the industry's most anticipated annual event which happens Saturday, May 4, 2019 at participating comic book shops worldwide. And at Apotheosis Comics, it's about comics and BEER. Starting at 10 a.m. Apotheosis will offer its remaining limited supply of Liz Sherman. For $20.00 you'll receive a limited edition Hellboy comic, a Hellboy hat and t-shirt.
For fun, take a look at Mignola and Stewart's art for three of the six labels.