Why beer lovers should care about the Hermann Wine Trail
Drink 314 is a blog about all that we drink in the 314, and that includes beer, wine, spirits, coffee, tea and soda.  Admittedly, the content I've created on this blog has been beer heavy, but that is because there is clearly a bigger audience for beer related stories.  But I truly hope to grow a wine and spirit audience.
Perhaps the way to to do that is to show beer lovers why they should care about the folks. who are as creative as our local brewers, but are making wine.  The wine business isn't easy, especially if you're not in Napa or somewhere else on the west coast of the United States.  Many seem to not take our Missouri and Illinois vintners as seriously as the folks out west and that's a shame.
Locally, I believe that part of our fascination with the local craft beer scene is 50% the beer, but also 50% the people who do the brewing.  Their stories are as fascinating to me as the beer they make.  They ARE a huge part of what makes this subculture so engaging.
So now is the time to give some love to the creative and hard working people in our region who are making wine with same entrepreneurial spirit as our local craft brewers.
Today, we focus on what is called the Hermann Wine Trail.
What is the Hermann Wine Trail 
The Hermann Wine Trail is a group of seven family owned wineries located in the beautiful Hermann, Missouri area. From quaint country farm settings to historic majestic wine cellars, you will experience our rich history and a variety of wine styles. Open year-round, you can enjoy daily wine tastings and participate in five trail events featuring wine and food pairings.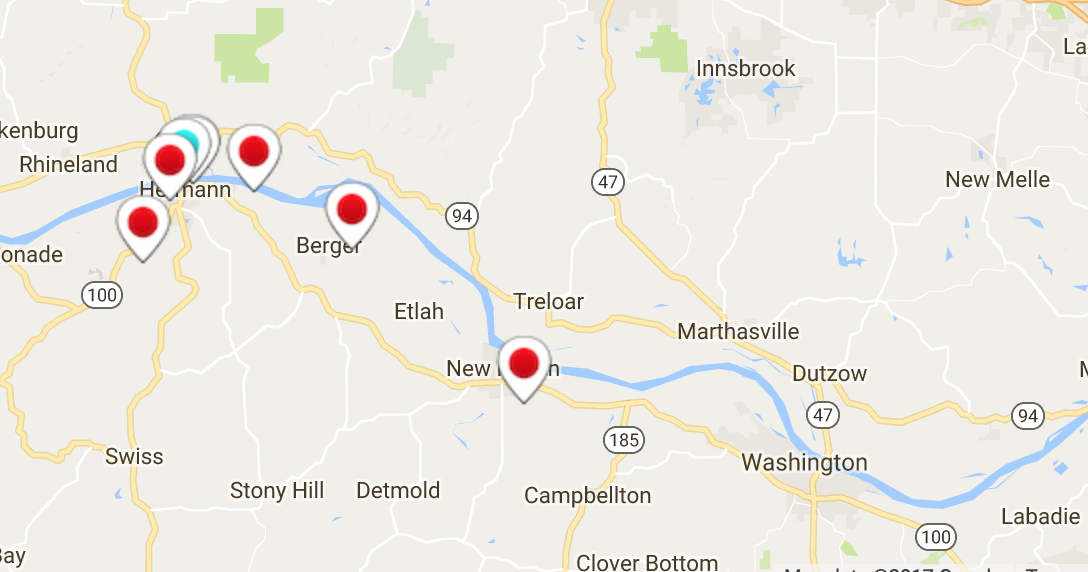 The Hermann Wine Trail Wineries

Adam Puchta Winery
1947 Frene Creek Road
Hermann, MO 65041
573-486-5596
The oldest family owned winery in the United States!
The story of the winery begins on May 25, 1839, when Adam Puchta, along with his father, John Henry Puchta, and other family members… left the port of Hamburg, Germany for the United States. Upon the family's arrival in Hermann they settled on a 40-acre tract of land adjacent to the land on which the winery is located.
Adam's father built a one-room log cabin, approximately 16' x 20' for his family and a small wine cellar with a press house over it. He purchased the land in 1841 and in 1849 purchased 40 more acres, which is now part of the winery farm and continued planting vineyards and purchasing more land for vineyard use.
Today Adam Puchta Winery is once again producing award winning wines, combining the heritage of the original family wine operation with the use of modern winemaking equipment, vineyards and facilities, all of which are still located on the original property. The Puchta family heritage makes the Adam Puchta Winery, the oldest continuously family owned winery in the United States!
---

Bias Winery and Gruhlke's Microbrewery
3166 Hwy B
Berger, MO 63014
573-834-5475
Nestled in the countryside atop a bluff overlooking the rich Missouri River bottomlands.
The winery offers a wide variety of spectacular views. The vineyard is visible from the Tasting Room, as well as from the indoor and outdoor seating areas. Visit for an afternoon and picnic at one of the shaded picnic tables, or sit under the grape arbor or covered veranda right outside the Winery. During inclement weather, their Hearth Room accommodates up to 100 people, and during those cold winter months, you can enjoy a glass of wine or microbrewed beer in front of a blazing fire in the stone fireplace.
Open year-round, Bias looks forward to making your visit memorable as you tour the Hermann Wine Trail, a part of the Missouri Wine Country.
---
Hermannhof Winery
338 E. First Street
Hermann, MO 65041
573-486-5959
The only winery located in historic downtown near museums, shops, restaurants, and is one block away from Amtrak station. Hermannhof's ten magnificent stone cellars and charming brick superstructure are among the 100 early Hermann buildings placed on the National Register of Historic places by the Federal government.
Visit the tasting room and let the friendly and knowledgeable staff guide you through their selection of fine wines.Wines range from dry reds and whites all the way down to the sweeter side including fine sparkling wine – sure to please everyone's tastes.
---

OakGlenn Vineyards & Winery
1104 OakGlenn Place
Hermann, MO 65041
573-486-5057
Two miles east of Hermann, MO, OakGlenn Winery commands a breathtaking view of the Missouri River and Missouri River Valley. Relax and take in the beauty of the vista as it expands before your eyes. "Look into the Country" (Shau-ins-land, German translation) describes the stunning view.
OakGlenn, open year round, offers a large selection of award winning wines, dry to sweet, red, white and rose'. OakGlenn also offers a red port and white port. A large selection of other alcoholic and nonalcoholic beverages are also available for purchase.
---

Röbller Vineyard
275 Röbller Vineyard Rd.
New Haven, MO 63068
573-237-3986
A small family operated winery on a beautiful hillside in the heart of Missouri Wine Country. Started from the ground up in 1988, the family has grown a backyard hobby into a meaningful estate winery. Originally from St. Louis, the family ended up in New Haven, Missouri reliving their German heritage and upbringing. While our earlier generations were involved in the making of beer as a livelihood, winemaking at home has always been a part of the family culture.
---

Stone Hill Winery
1110 Stone Hill Hwy.
Hermann, MO 65041
573-486-2221
Established in 1847, and well before there was a Napa Valley wine industry, Stone Hill grew to be the second largest winery in the United States!
Today Stone Hill is Missouri's oldest and most awarded winery. Stone Hill's yearly production is approximately 300,000 gallons of wine, using state-of-the-art equipment and the latest technology. Stone Hill's winemaking team produces wines that are again receiving international acclaim. Winning more than 4,000 awards since 1991, Stone Hill Winery has continuously ranked among the nation's top award winners.