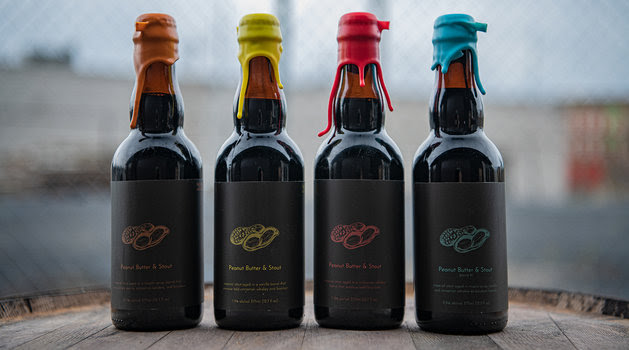 Narrow Gauge Brewing Company and its mastermind brewer Jeff Hardesty are responsible for so many of my favorite New England Style IPAs, it makes my head spin. In September 2018, I went as far as to call Hardesty the "Godfather of St. Louis' Hazy Beer movement." But today, the Narrow Gauge team is on my mind for 4 new reasons.
This weekend, the brewery announced it would be releasing a series of barrel-aged Peanut Butter & Stout variants later this month.
"If you recall, in December of 2019 we filled 6 barrels with Peanut Butter & Stout (2 barrels each of A, B, & C listed below)," wrote the brewery. 
Bourbon Barrel A featured cinnamon whiskey.
Barrel B featured cinnamon whiskey with vanilla extract.
Barrel C featured cinnamon whiskey, vanilla extract, and maple syrup.
The final bourbon barrel featured a blend of all three.
The single BA variants will be released as a mixed 4-pack of 375ml bottles. Each mixed pack will contain a bottle of each single-barrel variant and a bottle of the blend. Single bottles of the blended variant will also be available. 
To purchase this new series, Narrow Gauge launched a lottery on the Oznr app for both the BA Peanut Butter & Stout bundle and BA Peanut Butter & Stout single bottle blend. To enter the lottery, you must download and use the app.  Items A and B will be released via lottery. Item C will be available for purchase in Oznr on a first-come basis. Pricing will be listed in the Oznr app.
Rules of the Lottery
NO PROXIES. NO REFUNDS.

Orders must be picked up curbside M

arch 23rd thru April 4th, 11 AM – 6 PM.

Contact us by 5 PM March 18th to be removed from the lottery.
Questions? Text us at (314) 501-6108 or e-mail contact@narrowgaugestl.com.