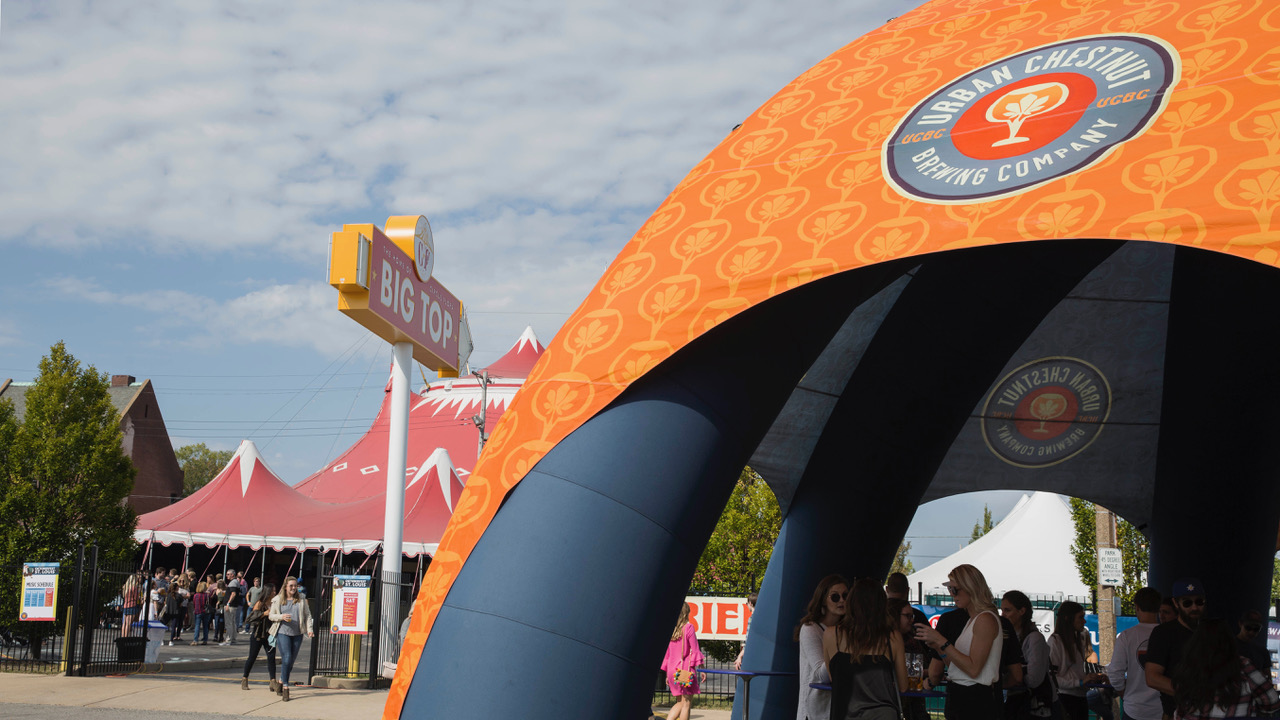 Labor Day has come and gone, kids are back in school, and now it's time to get prepared for Fall, and Fall beers. I simply love Fall beers. I love drinking them outside, back in my comfortable dad jeans, wearing my old, torn v-neck sweater that Leigh keeps threatening throw away. "You can't wear that outside," she'll scream at me. But little does she know, I've now designated that 20-year-old black sweater from The Gap, as my official Oktoberfest sweater.
I cannot be harmed.
So, now that I know what I'll be wearing, all need is a party to wear it too.. Oh, look, a party!
Urban Chestnut Brewing Company's annual Oktoberfest St. Louis returns for its ninth year to the UCBC Midtown Brewery & Biergarten and The Big Top, the home of Circus Flora in Grand Center.
The three-day festival begins Friday, Sept. 27, and runs through Sunday, Sept. 29. Free to attend, Oktoberfest St. Louis will feature a full lineup of rock, blues, polka and oompah-
thumping music on two stages as well as entertainment provided by members of Circus Flora who will
be strolling through the fairgrounds.
"Last year marked our first time partnering with our neighbors at the Kranzberg Arts Foundation and
Circus Flora, and it resulted in our most-attended Oktoberfest," said David Wolfe, co-founder UCBC. "It
allowed us to expand our footprint quite a bit and offer something for everyone. This year, we're excited
to continue the partnership to keep the lineup stacked with great music and entertainment for guests of
all ages."
To accommodate the thousands of annual attendees, Oktoberfest St. Louis will run along Washington
Avenue, beginning at UCBC's Biergarten, west to The Big Top. Bier begins pouring and the festival
grounds open Friday, Sept. 27 at noon, followed by a ceremonial keg-tapping at 7:30 p.m.
This year's honorary guest keg-tappers are the #MLS4THELOU's Carolyn Kindle Betz and Adam Betz.
In addition to the live music and circus performances, Oktoberfest St. Louis will feature Urban
Chestnut's award-winning O-Katz Oktoberfest Lager, Zwickel Bavarian Lager and Schnickelfritz Bavarian Weissbier in 16-ounce and liter pours. Traditional (and some non-traditional) Oktoberfest food – including pretzels, brats, pulled pork and caramel apples – will be available for purchase.
Additionally, some of St. Louis' favorite food trucks will be on-site during the festival, and carnival-style fare will be available at The Big Top.
Oktoberfest St. Louis will again feature the popular Vendor Village, open throughout the weekend
featuring local artists and vendors selling handmade artisan goods. The popular Oktoberfest stein-
holding competition, known as Masskrugstemmen, will take place Saturday in the Biergarten, and
representatives from Topgolf will be on hand with their inflatable target challenge, where participants
can test their golf skills for a chance to win Topgolf coupons and prizes.
Sunday will feature expanded family-friendly activities, including pop-up performances by members of
Circus Flora and Metro Theater Company, as well as activities organized by The Magic House. There also
will be a petting zoo and a children's tent with cookie decorating, music, art activities, and more. Purina
also will provide dog treats and fun activities for both two- and four-legged family members.
A portion of proceeds from the entire weekend will go directly to local emerging artists and community-
arts organizations affiliated with the Kranzberg Arts Foundation.
"We're thrilled to work with our friends and neighbors at Urban Chestnut to bring live music and theatre
to the streets of St. Louis," said Chris Hansen, executive director of the Kranzberg Arts Foundation. "A
thriving arts community is built on partnerships. Working with community-oriented groups like Urban
Chestnut helps more people enjoy and learn about the great artists and musicians who call St. Louis
home."
Entry is free at Oktoberfest St. Louis, and to alleviate lines, all bier, food and commemorative
Oktoberfest steins can be purchased via cash-only during the festival.
Oktoberfest St. Louis 2019 Event Overview:
Location: Urban Chestnut Midtown Brewery & Biergarten at 3229 Washington Ave., St. Louis
Dates: Friday, Sept. 27, from noon – midnight
Saturday, Sept. 28, from 11 a.m. – midnight
Sunday, Sept. 29, from noon – 7 p.m.
Cost: Entry is FREE at Oktoberfest St. Louis. Festivalgoers may buy a souvenir 1-liter glass stein for $12
at the festival and get 1-liter fills for $12. Additionally, 16-ounce pours will be available for $7.
An assortment of food items will be available for purchase, and food trucks will be on-site at
various times throughout the weekend. The festival is cash-only to alleviate lines.
Eight ATMs will be on-site at the festival.
Ride Share Drop Off Location: 3401 Washington Blvd., St. Louis, MO 63103
Musical Acts Include:
The Bolzen Beer Band
Terry Thompson & The Bavarian Stompers
Euro Express
Saint Boogie Brass Band, and more.