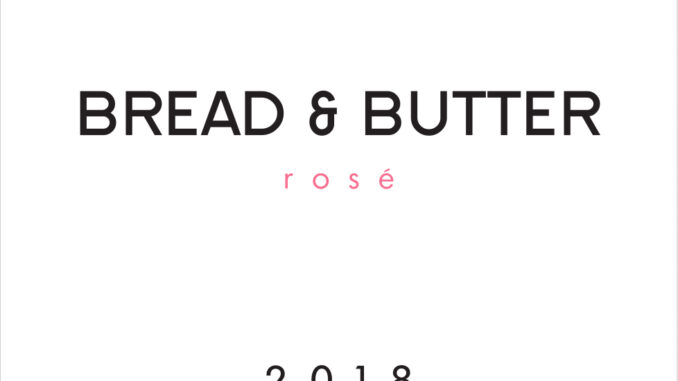 While I write mostly about beer, I'm a student of all drink, especially spirits. I struggle a bit with wine, but 2019 is my year. I intend to learn more about wine, discover what I like and share it with you all.
Wine is scary to me, simply based on the volume I see out there. There are so many wineries, and varietals, the whole thing seems a bit overwhelming. To narrow the scope of the focus, I've developed a new game plan. When I see wine being offered as a free tasting at a local retailer or event, I'll take advantage. First, if the wine is not displeasing to me, I'll have a second sample and inquire for more information. The probably think, I'm just saying that to move on with my day, but I actually mean it. I then reach out to the winery and get direct information about them and their wines.
My first winery has gotten back to me, and I'd like to share it with you.
My wife's wine of choice recently has been Rosé, so when I came upon a chance to sample the Rosé from Bread & Butter, I lept.
Bread & Butter Wines, is one of the fastest growing brands in what is called the super-premium wine market. These wines range in price from $15 to $30-40. Within a winery, you may have wines that fall into two or three of the premium price categories, with a lighter white or rosé being less expensive than a more robust, barrel aged red. So differentiation between the wines and the reasons for pricing them as you do is important, as customers may not know why some wines are more expensive or less expensive than others.
Rosé is new to the Bread & Butter lineup that features Chardonnay, Pinot Noir, and Cabernet Sauvignon. Rosé features a simple black and white label and should cost you around $15.99.
Bread & Butter Rosé at a Glance
This Rosé showcases fresh strawberry and melon aromas with hints of hibiscus and rose petal. It drinks crisp, fresh, and bit fruity. Like beer, I'm looking for balance. In the case of wine balance, we want balance in acidity. This Rose offers that and is pretty nice on the finish.
The Numbers 
Appellation: 

California

Debut Vintage: 2018
ABV: 12.5%
SRP: 

$15.99

Varietal blend: Grenache-based blend
Where you can find Bread & Butter wines in St. Louis
Schnucks
3430 S Grand Blvd
Saint Louis, MO 63118
Schnucks
60 Hampton Village Plz
Saint Louis, MO 63109
Gustine Market
3150 Gustine Ave
Saint Louis, MO 63116
Shaw Market
4200 Shaw Blvd
Saint Louis, MO 63110
Whole Foods Market
4577 W Pine Blvd
Saint Louis, MO 63108
Straubs
302 N Kingshighway Blvd
Saint Louis, MO 63108
Java Plus Cafe Saint Louis
5700 Lindell Blvd
Saint Louis, MO 63112
Dierbergs Market
7233 Watson Rd
Saint Louis, MO 63119