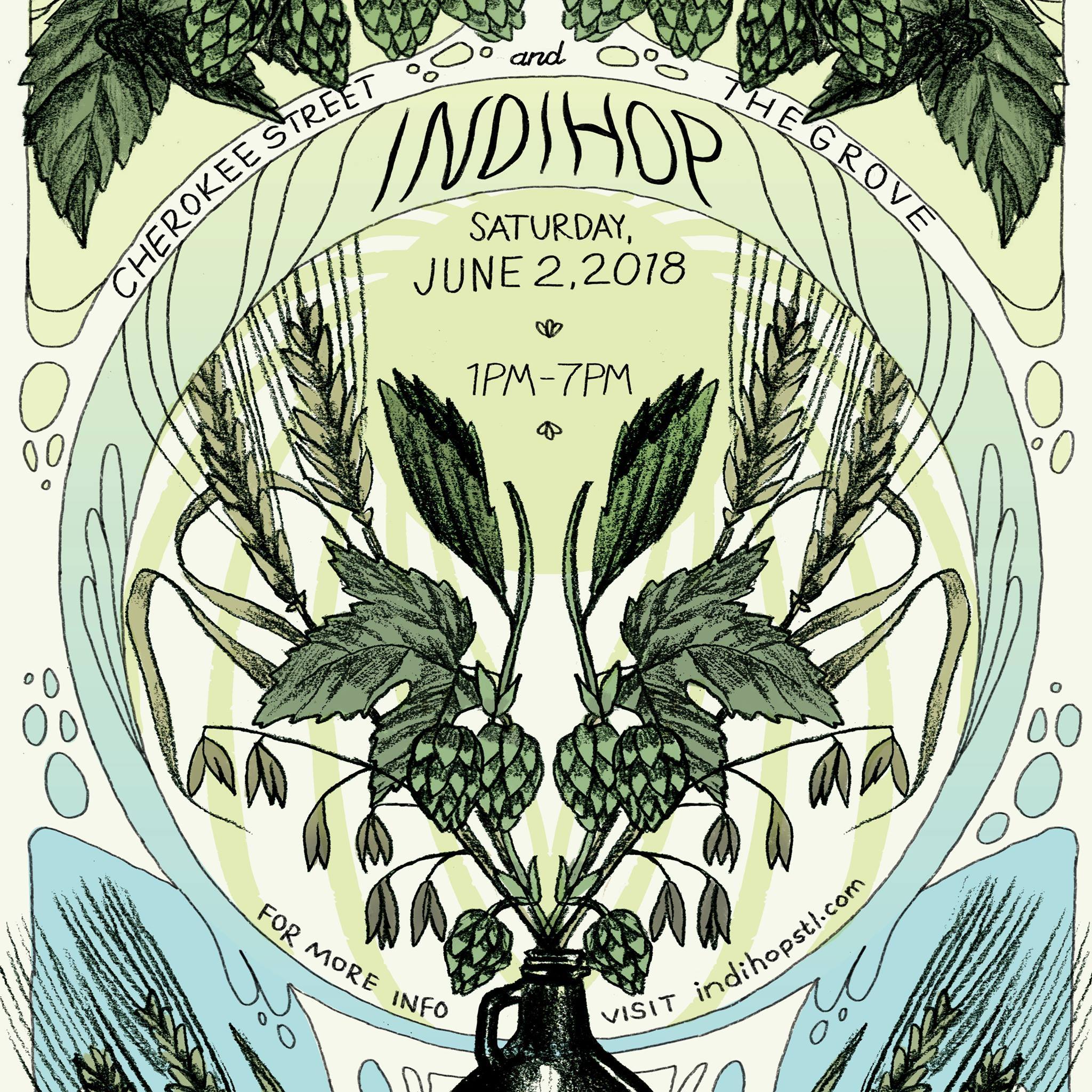 7 years ago, instead of battling for the title of most hippest and eclectic neighborhoods, St. Louis' two hippest and eclectic neighborhoods joined forces to bring our city what may be one the most unique beer events in years.
IndiHop 2018 harnesses the creativity and vibrancy of both Cherokee Street and The Grove, uniting both in the name of good taste and good beer.
All the fun is this Saturday, June 2nd from 1:00 p.m. to  7:00 p.m.  Tickets are available online and cost just between $20 and $30.
Here is how it works.  With a purchased ticket, participants receive a tasting glass and the opportunity to sample 50 different locally brewed and crafted beers.
Sample beer inside twenty-five businesses in each neighborhood. Shuttles transport folks between neighborhoods and local musicians entertain at each stop. 50 tastes, 18 bands, 5 shuttles!  IndiHop is St. Louis' only community building beer festival in two neighborhoods!
New to town? 
The Grove is a growing vibrant business and entertainment district along Manchester between Kingshighway and Vandeventer in St. Louis City. In The Grove you can find a diverse mix of independently owned restaurants, nightlife, retail, and services. It is also home to the premier nightlife in the area, and is a thriving center for the LGBT, artist, and cycling communities in the St. Louis area.
Cherokee Street is a vibrant center for commerce, culture, and creativity in St. Louis.  An independent arts community, where a collective spirit prevails – of inclusiveness, collaboration, diversity and enthusiasm – fueled by a by-the-bootstraps DIY ethos.  Named St. Louis' Mexican-food mecca, Cherokee Street has a large concentration of Latino-owned and operated bakeries, restaurants, shops and grocers.
Shuttle Stops
Cherokee Street – Cherokee at Compton, Texas and Salena.
The Grove – Manchester at Sarah and Texas. 
Participating Breweries (so far)

2nd Shift Brewing Co.
Art of Neurosis IPA
Little Big Hop Session New England Style IPA
4 Hands Brewing Co.
Alpha Brewing Co.
Black River Cider Co.
Charleville Brewing Co.
Box of Chocolate ~ Chocolate Belgian Quad
Rye by Night ~ Black IPA
Civil Life Brewing Co.
Earthbound Brewing Co.
#BasicBlonde

Open Source Brown Ale
Heavy Riff Brewing
Zumana Stout which is a Belgian Style milk stout
Chuckin' Berries which is a Farmhouse Ale with raspberries and blueberries
Logboat Brewing Co.
FlyBye Farmhouse Saison
Lookout American Pale Ale
Mother's Brewing Co.
Narrow Gauge Brewing Co.
Perennial Brewing Co.
On y Va
Suburban Beverage

Both Flowers & Weeds and the Gramophone
Rockwell Brewing
Schlafly Beer
White Lager
IPA
Coconut Crème Ale
Paloma Gose
AIPA
Wellbeing Brewing Co.
Participating Businesses (The Grove) 
Notch
Front Door Stl
REHAB
Just John
HandleBar
Tahaa
The URB
Confluence Kombucha
Layla
Atomic Cowboy
Bootleg
Gezellig
O'Shays
Space
Sauce on the Side
Firecracker Pizza
Running Niche
Chroma
Grace Meat + Three
Gramophone
Vincent Van Doughnut
Tropical Liqueurs
Parlor
Participating Businesses (Cherokee Street)
Dead Wax Records
Bluefield Process Safety
Byrd N Barrel
Parm Pasta & Sandwich
Don Carlos la Carniceria
Brandin Vaughn
Taco and Ice Cream Joint
KAMP
FOAM
Bespoke
Flowers and Weeds
The Juice
Propaganda
Whisk
Retro 101 / Cherry Bomb Vintage
Thrift Gold
Angel Boutique
Spoked Bikes
The Fortune Teller Bar
The Mud House
Artist Art
STL – Style
Saint Louis Hop Shop
Yaqui's
RKDE
Mariscos