Goats + Yoga & Beer Release at Rolling Meadows Brewery
December 8 @ 11:00 am

-

1:00 pm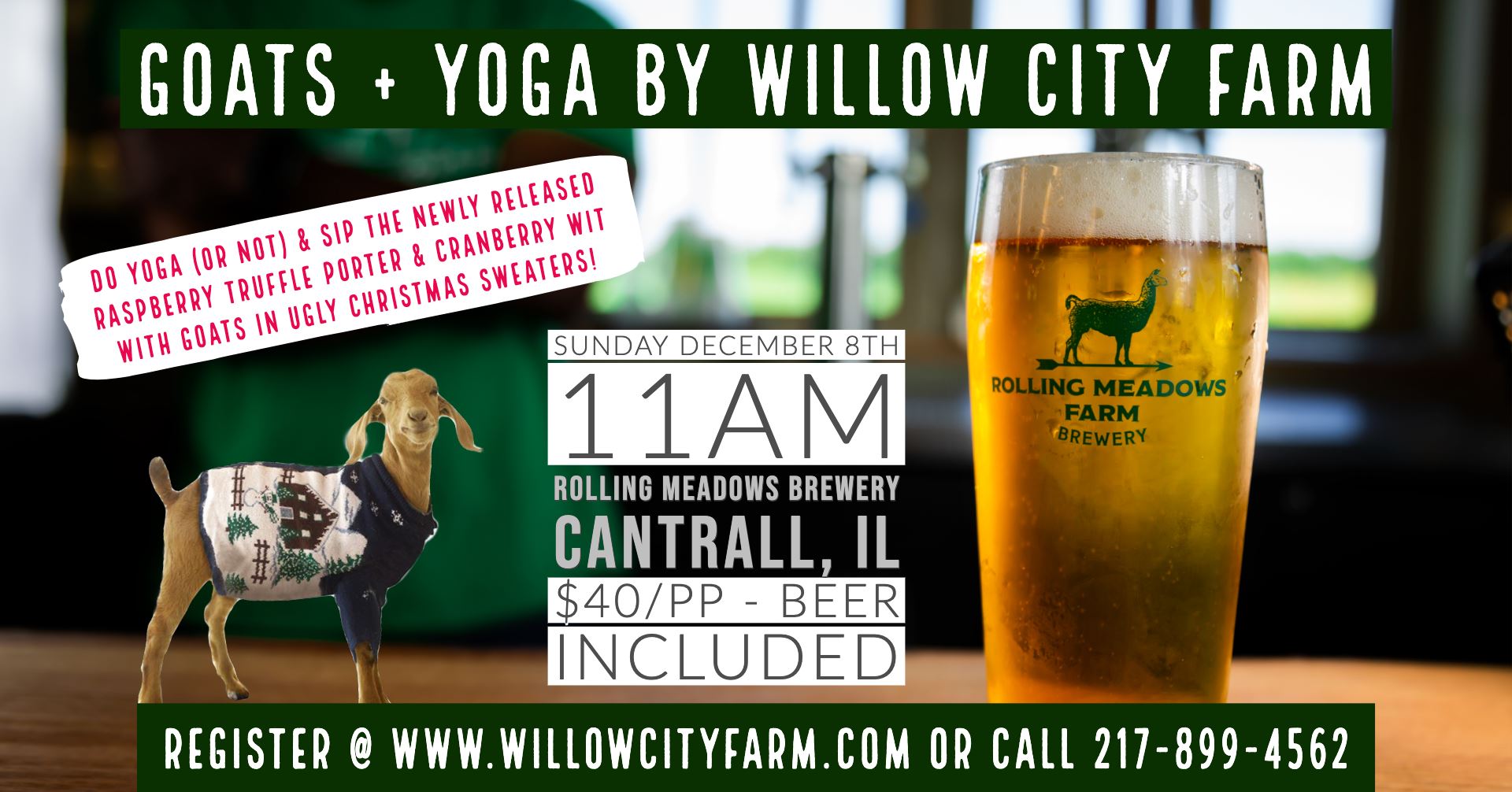 Willow City Farms is partnering with Rolling Meadows Brewery for the release of their Cranberry Wit & Raspberry Truffle Porter. Come hang in RMB's heated greenhouse and try some yoga (or just sit there) with the goats in their ugly Christmas sweaters while you sip on some beer!
Feel free to wear YOUR ugly Christmas sweater, too!
These beers are only released a few times a year, so come in for the release party and check them out early.
What is Goats + Yoga like?
Once you check-in at Rolling Meadows Farm Brewery, it's time to grab a drink.
After you get your cocktails (if you're over 21) head over to their gorgeous, heated greenhouse.
You'll set up your mats or towels and get to meet the goats. Yep, you can bring your drinks into the yoga area! You will be given cups of goat treats to help persuade the goats to come to you. There will be some who will be on top of you, and some who'd rather watch you from afar or just eat out of your hand. You can be as involved (or not) as you'd like. We can also strategically place the right goats on top of you for just the right selfie.
Some people just like to sit and hang with the goats, and some love to do full-on yoga. Either way, this class is just for you.
This is VERY informal! You are welcome to bring your yoga mat, or a beach towel will be just fine, too. If you are no longer able to attend, you may transfer your ticket to a friend. Just give us a heads up!
Please follow us on social media and share those photos! Please use the hashtag #GoatsPlusYoga so we can all see each other's photos!
Facebook: http://www.facebook.com/WillowCityFarm/
If you have additional questions, feel free to call Tara @ 217-899-4562 or email info@willowcityfarm.com. Most importantly, have a great time!
About Rolling Meadows Farm Brewery
Started by Caren Trudeau and her friend Connie Regan, both gardeners and farm operators on the property, our families now work alongside each other, handing down a work ethic and beer recipes from one generation to the next that accompany life on the farm.
We believe in a life well-worked and well-enjoyed. We stay mindful of our roots and where our ingredients come from, including the ones we grow ourselves. Being on the farm isn't easy—and neither is brewing—but it's a lifestyle as much as it is a labor of love.
The Beer
Cherry Wit
Witbier with Sour Cherries
6.2% ABV
We only make this brew on years when the local cherry harvest is good! Using cherries from Jefferies Orchard, this brew is another hyper-local offering that allows each part to contribute to the overall experience.
Raspberry Truffle Porter
Porter with Raspberries and Truffle
5.7% ABV
A toasty porter aged on cocao nibs and raspberries. A big raspberry forward aroma with a sweet chocolatey finish.