Criderfest 2019 – What's Lager Got To Do With It
June 22 @ 12:00 pm

-

4:00 pm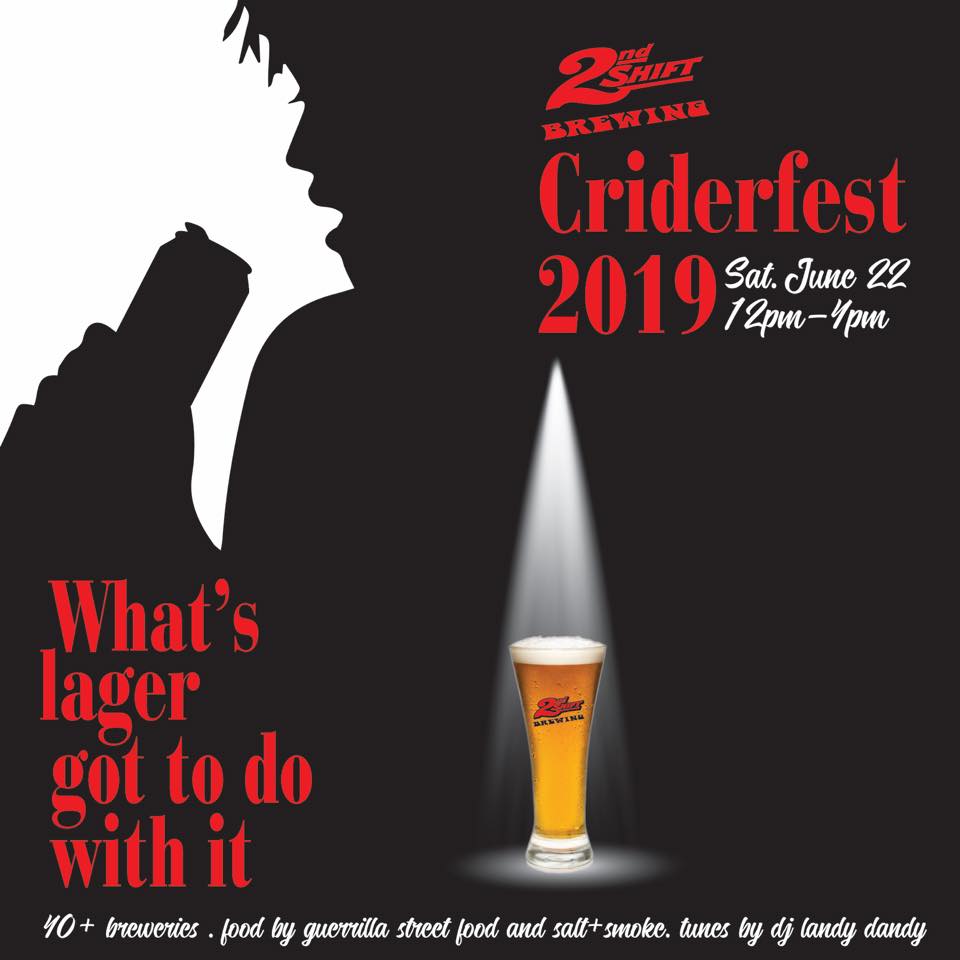 They've made it another year folks!
9 years of fun, friendship, laughter & beer. Now they are celebrating with some of the breweries they're lucky to call friends!
Each year 2nd Shift tries to do a fun twist on their annual Criderfest and because lager is the word this year (and every year!), this year's theme is 'What's Lager Got To Do With It'.
Many of the breweries attending will be bringing a lager to share in addition to another fun beer or two. Music will be a fun feature at this year's Criderfest, featuring Ms. Landydandy who will be spinning throughout the fest
Ticket Breakdown for this year's fest
•VIP Ticket $65 – early entry 12-1pm, unique, special commemorative glass, unlimited samples from 50+ breweries, entertainment & music (Only 150 VIP tickets available)
•General Admission $50 – 1-4pm entry, special commemorative glass, unlimited samples from 50+ breweries, entertainment & music
•Day Of General Admission $60 – 1-4pm entry, special commemorative glass, unlimited samples from 50+ breweries, entertainment & music
•Designated Driver $10 – 12-4pm entry, unlimited NA beverage enjoyment, entertainment & music
Food will be available for purchase from Salt + Smoke BBQ & Guerrilla Street Food
Brewery List
The entire list is still a work in progress, but right now, we're counting 64 guest brewers including 15 first timers. ( * = first time at Criderfest!)
•4 Hands Brewing Co
•18th Street Brewery
•450 North Brewing*
•Åre Bryggcompagni*
•Blackberry Farm Brewery
•Blueprint Coffee
•Boulevard Brewing Co.
•CANarchy
•Central Standard Brewing
•Central State Brewing
•Charleville
•Civil Life Brewing Company
•Collective Arts Brewing*
•Crooked Stave Artisan Beer Project
•Dovetail Brewery
•Earthbound Beer
•Embrace The Funk
•Exit 6 Pub & Brewery
•Firestone Walker Brewing Company
•Forbidden Root Brewery*
•Free State Brewing Company*
•Hacienda Beer Co.*
•Half Acre Beer Co.*
•Hawk Moth Brewing*
•Hubbards Cave Brewery
•Logboat Brewing Company
•Lupulin Brewing Company*
•Main & Mill Brewing Company
•Maplewood Brewery & Distillery
•Marz Community Brewing
•Mastry's Brewing Co.*
•middle brow beer co
•Mikkeller Baghaven
•Mondo Brewing Company*
•Narrow Gauge Brewing Company
•Odell Brewing Co
•Off Color Brewing
•One Trick Pony Brewery
•Perennial Artisan Ales
•Piney River Brewing Co.
•Pipeworks Brewing
•Pollyanna Brewing Company
•Prairie Artisan Ales*
•Public House Brewing Company
•Revolution Brewing
•Rockwell Beer Co.*
•Rowley Farmhouse Ales
•Shared by Side Project
•Side Project Brewing
•Six Mile Bridge
•Southern Grist Brewing
•Speciation Artisan Ales*
•Stag
•Sun King Brewing
•Torn Label Brewing Company
•Transient Artisan Ales
•Une Année Brewery
•Urban Chestnut Brewing Company
•Wellspent Brewing Company
•Werk Force Brewing*
•White Rooster Farmhouse Brewery
•Windmill Brewing
•Wiseacre Brewing Co
•Yazoo Brewing