12 Bars Of Charity – St. Louis
December 15, 2018 @ 2:00 pm

-

6:00 pm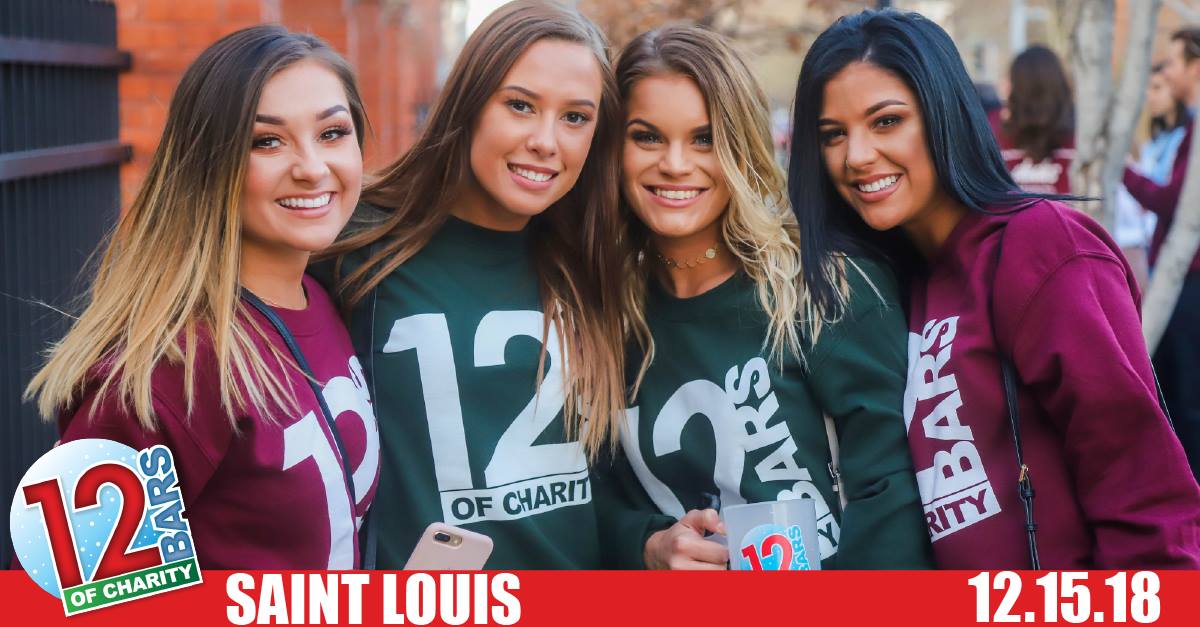 The 7th Annual 12 Bars of Charity is BACK on Saturday, December 15th! Pick a charity team to support round up your friends, and come out to party for a great cause!
Last year 12 Bars of Charity – St. Louis helped raise more than $95,000 for LOCAL charity and had over 8,000 people participate. Help us break last years record as we aim to raise more than $100,000 in 2018!
**SIGN UP IN SEPTEMBER AND $15 GOES BACK!!**
It's $30 to participate and you receive…
– A Charity TEAM Color Sweatshirt
– ? $10 donation to the charity of your choice.
– ?FREE Shuttle Rides to take you to 20+ Bars
– ?Ridiculous Drink Specials at All 20+ Bars
– ?Experience the magical feeling that only the worlds most charitable bar crawl can give you!
PARTICIPATING CHARITIES TEAMS
Stray Rescue of St. Louis
The Dudes – St. Jude Children's Hospital
World Pediatric Project
Friends of Kids With Cancer
Autism Speaks St. Louis
Gene Slay's Girls & Boys Club of Saint Louis
Animal Protective Association of Missouri (APA)
Make-A-Wish Missouri **NEW FOR 2018**
PARTICIPATING VENUES COMING SOON!
? For Tickets please visit: https://goo.gl/F6iMbu
BIG DADDY'S
D'S PLACE
MOLLY'S
LLYWELYN'S
DUKE'S
GREAT GRIZZLY
THE GOODLUCK BAR
DB'S
LUCAS PARK
HAIR OF THE DOG
OVER UNDER
FLANNERY'S
ROSALITA'S
TIN ROOF
1860'S
PADDY O'S
FOX SPORTS LIVE!
PBR
BUDWEISER BREWHO– USE
CARDINAL NATION
SOCIAL HO– USE